Clarksville, TN – Austin Peay State University head softball coach Stephanie Paris is pleased to announce the addition of eight student-athletes set to join the Lady Govs roster in Fall 2013, bringing her total signing class to 12 players.
"We really hit the pavement looking for players," said Paris. "We got a couple of last-minute finds that will help us tremendously, especially offensively."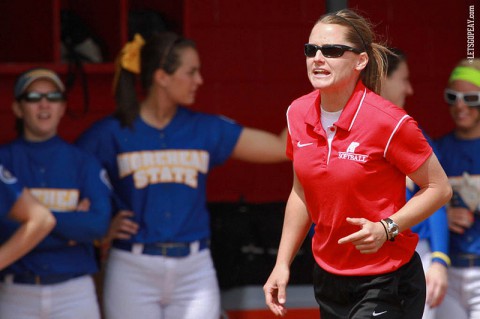 Christina Beam of Rock Island, IL, will be counted on to contribute right away for the Lady Govs. Beam was a three-time all-conference and all-Metro player at Rock Island High School before spending two seasons at Heartland Community College. She hit better than .400 in both campaigns with the Lady Hawks, including a 2012 Mid-West Athletic Conference championship. She finished second in the NJCAA in hits in 2013 and fifth in RBI.
A trio of Californians will make their way to Clarksville for the 2014 campaign, led by Vichenza DeBenedetto. A corner infielder, she was second-team all-league last season at West Valley Junior College, hitting .382 with 20 extra-base hits – including seven home runs – and a team-high 49 RBI. She displayed excellent plate discipline as well, striking out just nine times in 136 at-bats.
Ashley Eisenbraun comes to the Lady Govs from Ellsworth Community College in Iowa Falls, Iowa, where she hit .308 with a team-high six home runs and 24 RBI, earning honorable mention all-conference honors from the Iowa Valley Conference.
A four-time all-league selection for Santa Catalina School, Fatima Larios led the Cougars to a Central Coast Section Division III title in 2012, the school's first, and a 25-3 record in her senior campaign. Larios hit better than .300 in three of four high school campaigns, including a .409 clip during her junior season.
Local product Rikki Arkansas elected to attend her hometown university. The Northeast grad, who started her high school career at Rossview before moving to Texas for two years, was a Tennessee Softball Coaches Association All-State and first-team all-area for the Eagles in 2013, earning a spot in the Tennessee vs. Kentucky All-Star game after hitting .417 as a senior.
Another Tennessean, Laura Judy, went 7-3 with a 0.84 ERA and 56 strikeouts in 13 appearances (58 innings pitched) for Brighton High School in 2013, adding a .418 average with 22 RBI at the plate. She netted an impressive 18-4 mark as a junior, throwing 156.1 innings and striking out 131. Both seasons netted her all-district honors.
Outfielder Maecy Charleston hit .337 en route to her second all-region honor for Allen County Community College in 2013. The Kansan, whose mother is an Austin Peay graduate, took home first-team all-region honors as a freshman in 2012, hitting .328 and leading the team with seven home runs.
Brianna Bartuccio went 5-2 with a 1.35 ERA and 41 strikeouts in 52 innings for Barron Collier High School out of Naples, FL, in 2012. She won district titles in each of her four seasons with the Cougars, including a state runner-up finish as a freshman.
The summer class joins four fall signees – Allie Blackwood, Christina Gable, Chandler Groves and Sidney Hooper – to make up the 2013 class. Last week, Gable was named to the Tennessee Sports Writers Association All-State team.
"I feel like we got a lot better," Paris said. "We have three pitchers coming in that will make us better in the circle. A lot of the position players we have coming in are coming from very competitive junior college leagues, so they've got that experience coming.
"We'll be able to do more in the fall. Being able to do intrasquad and situational-specific things we need to do will be huge. We should have many more players and I believe they'll all have a chance to come in and compete."