Nashville's Hunter Morris Belts 21st Home Run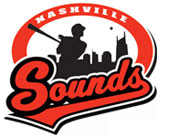 Nashville, TN – The Nashville Sounds had their season-best six game win streak snapped Sunday night at Greer Stadium, losing the lead in the last inning to the Tucson Padres in the 8-5 defeat.
Trailing 5-4 in the ninth inning with the bases loaded, first baseman Cody Decker drove a triple to right field to flip the script on the Sounds for a 6-5 advantage. The Padres added one more run on Chris Robinson's squeeze bunt single to third base.
Reliever Brent Leach (0-1) was charged with the loss, allowing the first two base runners on before giving way to closer Jesus Sanchez with one out in the inning. Sanchez walked the bases loaded to set up Decker for his game-winning hit.
Prior to the ninth, Nashville had rallied from two runs down in the fifth inning. Sounds first baseman Hunter Morris crushed a home run to dead center field to score three runs and give Nashville their second lead of the game.
The homer is Morris' 21st of the season, second-most in the Pacific Coast League, and extends his hit streak to seven games for the team's longest active streak.
Nashville jumped out to its first lead by plating two runs in the first inning. Kentrail Davis and Eugenio Velez hit singles to lead off the frame. Tucson right fielder Jaff Decker misplayed Velez's ball to allow Davis to score and Velez to reach third. Sean Halton hit a sacrifice fly to centerfield that drove in Velez.
The Padres got on the board in the second inning courtesy of a fielding error by Velez. With runners on first and second Brandon Allen hit a groundball that jumped off of Velez's glove to score the lead runner.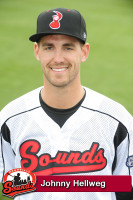 Tucson pieced together a big three-run fourth inning off of Sounds starting pitcher Johnny Hellweg, who had not allowed a team more than one earned run in a single outing since May 21.
Catcher Chris Robinson got the inning started for the Padres, leveling the game with an RBI double into right field that scored Scott Moore, who hit a leadoff ground rule double. Moore's run was the first earned run allowed by Hellweg over his last 27 innings.
Jaff Decker added another Padres' run in the fourth inning with a ground rule double scoring Robinson for the 4-2 lead.
Hellweg was in line for his ninth consecutive win and league-leading 11th of the year, allowing Tucson four runs, three earned, on seven hits and four walks. He fanned four Padres before reliever Travis Webb entered the game in the sixth.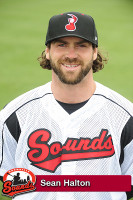 Webb and Johnnie Lowe combined to deliver 2 2/3 scoreless innings for Nashville with three strikeouts. Leach closed out the eighth inning for Lowe prior to the troublesome ninth.
Miles Mikolas (4-1) picked up the win for Tucson, holding Nashville scoreless in the final two frames.
The Sounds look to regain the series lead against the Tucson Padres on Monday night at Greer Stadium. Throwing for Nashville will be RHP Jimmy Nelson (2-4, 3.47) opposite Tucson's lefty Robbie Erlin (6-3, 5.17). First pitch is slated for 7:05pm.
Box Score
Tucson Padres (60-56) 8, Nashville Sounds (44-72) 5
August 4th, 2013
1
2
3
4
5
6
7
8
9
R
H
E
Tucson Padres
0
0
1
3
0
0
0
0
4
8
11
1
Nashville Sounds
2
0
0
0
3
0
0
0
0
5
12
2
a-Flied out for Boxberger in the 8th.
BATTING
2B: Decker, C (22, Hellweg), Moore, S (27, Hellweg), Robinson, Ch (4, Hellweg), Decker (23, Hellweg).
3B: Decker, C (5, Sanchez, Je).
TB: Decker 4; Moore, S 2; Anna 3; Robinson, Ch 3; Decker, C 5.
RBI: Robinson, Ch 2 (7), Decker (38), Anna (60), Decker, C 3 (51).
2-out RBI: Anna; Robinson, Ch.
Runners left in scoring position, 2 out: Bass 2; Decker, C; Petit, G; Mikolas.
Team RISP: 5-for-20.
Team LOB: 10.BASERUNNING
SB: Robinson, Ch (2, 2nd base off Sanchez, Je/De La Rosa, A).
CS: Decker (6, 2nd base by Hellweg/De La Rosa, A), Anna (7, 2nd base by Webb/De La Rosa, A).FIELDING
E: Decker (5, fielding).
Outfield assists: Decker (Morris, H at home).
DP: 2 (Bass-Petit, G-Moore, S, Anna-Petit, G-Moore, S).
BATTING
2B: De La Rosa, A (14, Bass).
HR: Morris, H (21, 5th inning off Bass, 2 on, 1 out).
TB: Chavez, O; Velez; Prince 3; De La Rosa, A 2; Halton; Morris, H 5; Davis, Ke 3.
RBI: Halton (38), Morris, H 3 (58).
Runners left in scoring position, 2 out: Davis, Ke 2; Diaz, R; Hellweg; Statia; Halton.
SF: Halton.
GIDP: Morris, H, Statia.
Team RISP: 2-for-12.
Team LOB: 7.BASERUNNING
SB: Prince 2 (19, 2nd base off Bass/Robinson, Ch, 3rd base off Bass/Robinson, Ch), Statia (5, 2nd base off Bass/Robinson, Ch), Davis, Ke (3, 2nd base off Bass/Robinson, Ch).FIELDING
E: Velez (2, fielding), Diaz, R (6, throw).
DP: (De La Rosa, A-Prince).
HBP: Robinson, Ch (by Hellweg).
Pitches-strikes: Bass 84-56, Boxberger 23-19, Mikolas 31-20, Hellweg 98-55, Webb 23-12, Lowe 17-9, Leach 19-11, Sanchez, Je 16-10.
Groundouts-flyouts: Bass 3-4, Boxberger 1-0, Mikolas 3-1, Hellweg 6-1, Webb 1-0, Lowe 1-2, Leach 0-0, Sanchez, Je 1-0.
Batters faced: Bass 24, Boxberger 6, Mikolas 9, Hellweg 27, Webb 4, Lowe 5, Leach 4, Sanchez, Je 5.
Inherited runners-scored: Sanchez, Je 2-2.
Umpires: HP: Cory Blaser. 1B: Chris Segal. 2B: Jordan Ferrell. 3B: Kolin Kline.
Weather: 84 degrees, partly cloudy.
Wind: 9 mph, Out to CF.
T: 3:13.
Att: 2,999.
Venue: Herschel Greer Stadium.
August 4, 2013