Saturday appointments available August 17th and 24th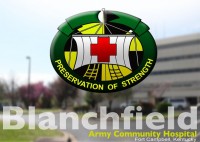 Fort Campbell, KY – Blanchfield Army Community Hospital (BACH) patient-centered medical home teams are conducting school and sports physicals now for BACH enrolled TRICARE Prime beneficiaries' ages 4 to 22 during Patient-Centered Home Medical Home hours.
BACH enrolled beneficiaries may call the appointment line at 270.798.4677 or 931.431.4677 to schedule an appointment with their assigned medical home team. BACH medical homes providing school and sports physicals include Byrd Family Medical Home, Air Assault Family Medical Home, Young Eagle Medical Home and the Screaming Eagle Medical Home.
TRICARE prime beneficiaries assigned to a network medical provider may schedule an appointment with their network primary care manager (PCM) for school or sports physicals or they may call for an appointment on one of the School and Sports Physical Saturdays using BACH's appointment line at 270.798.4677 or 931.431.4677.
Sports Physical Saturdays will be held August 17th and 24th from 8:00am to 4:00pm at the Byrd Family Medical Home, located in Building 7973, Thunder Boulevard (near Gate 10) at Fort Campbell.
"The focus for School and Sport Physical Saturdays is to allow TRICARE Prime network beneficiaries the opportunity to receive a sports physical without incurring a cost, since sports physicals are not a covered benefit for TRICARE beneficiaries assigned to a network PCM," said chief of primary care Col. David Brown.
Although all beneficiaries, including individuals enrolled to a network provider, may schedule an appointment for one of BACH's School and Sports Physical Saturdays, patients enrolled to BACH are encouraged to utilize regularly scheduled appointments Monday through Friday to avoid long wait times.
As of July 2010, the Tennessee Department of Health (TDH) has new immunization requirements for children enrolling in child care and school. The following individuals will need an official Tennessee Certificate of Immunization to provide to the school or childcare provider: children 4 years old and above who start pre-school, pre-Kindergarten, Kindergarten, 7th grade or new students starting school in Tennessee for the first time.
In order to receive a school or sports physical, students must bring their immunization record (shot record) to the appointment. The BACH patient-centered medical home teams offer walk-in hours for immunization services from 8:00am to 3:00pm Monday through Friday. Immunizations may also be given before or after the school or sports physical examination is scheduled.
If other medical concerns arise during the school or sports physical examination, a follow-up appointment should be scheduled with your primary care manager in order to ensure proper time and attention is devoted to the medical need.
Routine physical exams are valid for one year and are required for the following students:
Any child entering Christian County or Clarksville-Montgomery County schools for the first time
Any student participating in school organized sports
Any youth participating in Fort Campbell's organized sport programs
Any adolescent who enrolls in the 6th grade in Christian County or Fort Campbell Schools
Any adolescent who is entering the 7th grade in Tennessee
For children who attend schools other than the districts listed, parents are encouraged to call their local school district to determine school and sports physical requirements and obtain the necessary forms. Parents may contact their child's assigned medical home or network provider for more information about school or sports physicals.
If your child had a school physical within the last 12 months, it will not be necessary to receive another physical. BACH medical home patients who do not need a new physical may contact their care team to have the required school forms completed. Paperwork may take up to three business days.
To schedule or cancel a physical appointment at BACH, parents may call the appointment line at 931.431.4677 or 270.798.4677.
Patients unable to attend a scheduled school or sports physical appointment Monday through Friday should call the BACH appointment line to cancel at least two hours prior to the appointment. To cancel a Saturday appointment, please call the appointment line anytime before 6:30pm on the Friday before your scheduled appointment, by August 16th or 23rd.
Special notes: Please remember to bring each child's school or sports physical examination forms and immunization records to the appointment. It is important that you complete all required forms prior to the appointment. Children are asked to wear shorts and a short-sleeved shirt to facilitate the examination.