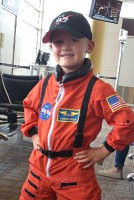 Clarksville, TN – A few weeks ago my family participated in JDRF Children's Congress 2013 in Washington, D.C. where we met with our elected officials to ask for their support in finding a cure for Type 1 diabetes. There are some amazing developments focused on both a cure and treatment.

My 5 year old son, Garrett, was diagnosed with Type 1 Diabetes when he was 21 months old. Earlier this year Garrett began using an insulin pump that replaces the need for multiple shots each day. The insulin pump was developed as a direct result of support for JDRF (Juvenile Diabetes Research Foundation) and the technology helps regulate his blood glucose level.

I am asking for your support. Please donate to my personal fundraising efforts for JDRF. By doing so, you can help me make a difference for millions of people living with type 1 diabetes like Garrett.

Click the link below to visit my personal fundraising page. Our team's goal is to raise $5,000 bringing our 4-year total to over $20,000!

http://www2.jdrf.org/goto/garrettallen
Did you know that:
T1D is an autoimmune disease that comes on suddenly and strikes both children and adults at any age?
T1D has nothing to do with diet or lifestyle?
Those living with T1D must carefully balance insulin doses with eating and daily activities throughout the day and night?
Those living with T1D must test their blood sugar by pricking their fingers for blood 6 or more times a day?
As the leader of the type 1 diabetes community, JDRF unifies global efforts to cure, treat and prevent T1D. JDRF will not rest until T1D is fully conquered. Won't you please give to JDRF as generously as possible?
Thank you for your support!
About Frazier Allen
Sections
News
Topics
Blood Glucose, Clarksville TN, diabetes, Disease, donate, Insulin Pump, JDRF Children's Congress, Juvenile Diabetes Research Foundation, Type 1 Diabetes, Washington D.C.