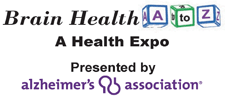 Clarksville, TN – "Brain Health A to Z" health expo will be held Saturday, August 17th at First Baptist Church. This health expo is presented by the Mid South Chapter of the Alzheimer's Association. The expo will be open from 9:00am until 1:00pm.
"Brain Health A to Z" is for the community to learn more about brain health and Alzheimer's disease/dementia. Some may have a loved one with Alzheimer's, a family history of Alzheimer's or may just be interested in brain health. Attendees may come and go as they wish.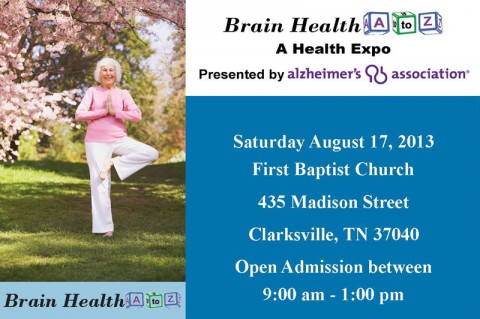 The event will be an interactive experience with exhibitors, guest speakers, entertainment, and a Respite Room.
There will be Health Screenings such as Memory Screening, blood pressure and many more.
Workshops Include
Health experts to answer questions
Interesting and relevant speakers on Brain Health related topics
Community support services
Entertainment
A;zheimer's research updates
Health Screenings such as blood pressure
First Baptist Church is located at 435 Madison Street, Clarksville, TN.
To reserve your spot and FREE lunch contact Tiffany Cloud-Mann at 800.272.3900 or by email at

About the Mid South Chapter of the Alzheimer's Association
Our mission is to eliminate Alzheimer's disease through the advancement of research; to provide and enhance care and support for all affected; and to reduce the risk of dementia through the promotion of brain health.
Join the cause, become an Advocate today! www.alz.org/join_the_cause_advocacy.asp
For more information see their website at: www.alz.org/altn/