Nashville, TN – Australia's most famous residents will make their debut in a new habitat opening at Nashville Zoo on Saturday, September 14th. Kangaroo Kickabout will give guests the opportunity to enter the home of 18 red kangaroos.
"We are very excited about the opening of Kangaroo Kickabout, our first major animal exhibit to open since Flamingo Lagoon in 2010," said Rick Schwartz, Zoo President. "Like our Lorikeet Landing and Critter Encounter exhibits, the Kickabout gives visitors the unique opportunity to interact with our animals."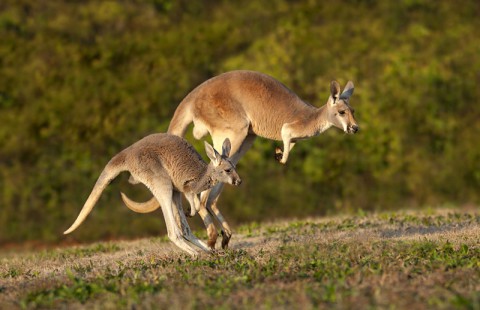 Kangaroo Kickabout features 4,500 square feet of naturalistic Australian landscape. Guests can view the 'roos from an outside area, or get a closer experience by walking a winding path through the middle of the habitat.
While guests must stay on the pathway, kangaroos are free to wander the exhibit. Kangaroo Kickabout will also include four triton cockatoos, a subspecies of the sulfur-crested cockatoo found in New Guinea and its surrounding islands. Zoo keepers will be on hand at all times to answer questions and monitor the animals and guests.
Kangaroo Kickabout is made possible thanks to the generous support from Zoo board chairman Jim Hunt and his wife, Sally. This is the second habitat supported by the Hunt Family after their 2005 support to open Lorikeet Landing.
Red kangaroos are one of four species of kangaroo and are native to the open plains of inland Australia. Considered the largest living marsupials, red kangaroo males can reach a height of nearly 5 feet tall and weigh as much as 190 pounds. They move by hopping on their large lower legs, using their strong tail for balance. These legs are so powerful that kangaroos have been known to reach hopping speeds of 40 mph.
About the Nashville Zoo
Nashville Zoo is accredited by the prestigious Association of Zoos and Aquariums, assuring the highest standards of animal care and husbandry. Attracting more than 787,000 visitors annually, the Zoo is considered one of the top things to do in Nashville.
The Zoo is a non-profit organization located at 3777 Nolensville Pike and is open every day except Thanksgiving, Christmas and New Year's Day. The mission of Nashville Zoo is to inspire a culture of understanding and discovery of our natural world through conservation, innovation and leadership.
For  more information about Nashville Zoo, call 615-833-1534 or visit www.nashvillezoo.org.