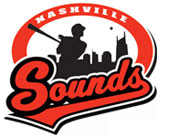 Colorado Springs, CO – The Nashville Sounds gained a split of a four-game set with a 3-2 victory over the Colorado Springs Sky Sox on Sunday evening at Security Service Field.
Right-hander Jimmy Nelson (3-4) picked up the win for the Sounds after allowing one run on five hits and striking out five batters over his five innings of work. He lowered his Triple-A ERA to 3.54 with the effort.
Blake Lalli (2-for-4) powered the Sounds to an early lead with a two-run homer in the top of the second inning off Sky Sox starter Armando Galarraga, the backstop's 11th roundtripper of the year. Josh Prince (2-for-3), who preceded Lalli with a single, also scored on the blast.
Colorado Springs halved the Nashville lead to 2-1 in the third when ex-Sound Hernan Iribarren led off with a single and later scored on Ryan Wheeler's one -out double to center.
Nashville tacked on a run in the fifth when Eugenio Velez's sacrifice fly plated Blake Davis, who had opened the frame with a single.
Johnnie Lowe (1.0 IP) and Brent Leach (2.1 IP) worked scoreless relief for the Sounds to keep it a 3-1 contest until the ninth, when the Sky Sox didn't go down without a fight against Sounds closer Jesus Sanchez.
After Sanchez retired the first two hitter of the inning, Jordan Pacheco, Tim Wheeler, and Iribarren strung together three consecutive singles, which made it a 3-2 game and placed Wheeler at third as the tying run. Sanchez then retired Reid Brignac on a game-ending lineout to third.
The Sounds continue their West Coast road trip on Monday in Reno, Nevada with the 9:05pm opener of a four-game series at Aces Ballpark. Left-hander Chris Narveson (4-6, 4.99), who has worked a Nashville season-high 16 2/3 consecutive scoreless frames over his last three outings, will make the start for the Sounds. Reno will counter with southpaw Tyler Skaggs (6-7, 4.12).
Box Score
Nashville Sounds (48-74) 3, Colorado Springs Sky Sox (58-61) 2
August 11th, 2013
1
2
3
4
5
6
7
8
9
R
H
E
Nashville Sounds
0
2
0
0
1
0
0
0
0
3
7
2
Colorado Springs Sky Sox
0
0
1
0
0
0
0
0
1
2
8
0
BATTING
2B: Davis, Ke (4, Galarraga, A).
HR: Lalli (11, 2nd inning off Galarraga, A, 1 on, 0 out).
TB: Prince 2; Lalli 5; Davis, B; Davis, Ke 3.
RBI: Lalli 2 (28), Velez (7).
Runners left in scoring position, 2 out: Morris, H; Halton; Lalli.
SAC: Nelson.
SF: Velez.
GIDP: Halton.
Team RISP: 1-for-8.
Team LOB: 6.BASERUNNING
SB: Davis, Ke (5, 2nd base off Galarraga, A/Davis, L).
CS: Davis, B (5, 2nd base by Hensley/Davis, L).FIELDING
E: Davis, B (17, throw), Velez (3, fielding).
Pickoffs: Leach (Matthes at 1st base).
a-Flied out for Galarraga, A in the 6th. b-Singled for Boggs in the 9th.
BATTING
2B: Brignac (6, Nelson), Wheeler, R (27, Nelson).
TB: Wheeler, T; Wheeler, R 2; Iribarren 2; Paulsen; Brignac 2; Pacheco; Matthes.
RBI: Wheeler, R (70), Iribarren (25).
2-out RBI: Iribarren.
Runners left in scoring position, 2 out: Wheeler, R; Wheeler, T 2; Matthes; Iribarren; Brignac.
SAC: Davis, L.
Team RISP: 2-for-9.
Team LOB: 10.BASERUNNING
CS: Iribarren (1, 2nd base by Nelson/Lalli).
PO: Matthes (1st base by Leach).FIELDING
DP: (Brignac-Paulsen).
Nashville Sounds
Player
IP
H
R
ER
BB
SO
HR
ERA
Jimmy Nelson (W, 3-4)
5.0
5
1
1
4
5
0
3.54
Johnnie Lowe (H, 6)
1.0
0
0
0
0
0
0
4.13
Brent Leach (H, 4)
2.1
0
0
0
1
1
0
4.26
Jesus Sanchez (S, 5)
0.2
3
1
1
0
1
0
2.43
Totals
9.0
8
2
2
5
7
0
4.36
WP: Galarraga, A.
Pitches-strikes: Nelson 92-49, Lowe 12-8, Leach 25-13, Sanchez, Je 15-11, Galarraga, A 85-55, Hensley 28-13, Boggs 15-11.
Groundouts-flyouts: Nelson 6-2, Lowe 3-1, Leach 1-2, Sanchez, Je 0-0, Galarraga, A 8-3, Hensley 3-1, Boggs 1-0.
Batters faced: Nelson 23, Lowe 4, Leach 7, Sanchez, Je 5, Galarraga, A 25, Hensley 8, Boggs 3.
Umpires: HP: Joel Hospodka. 1B: Tom Woodring. 3B: Gerard Ascani.
Weather: 78 degrees, cloudy.
Wind: 10 mph, Varies.
T: 2:59 (2:19 delay).
Att: 4,112.
Venue: Security Service Field.
August 11, 2013