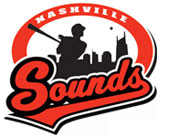 Reno, NV – The Nashville Sounds were on the short end of a 12-7 final against the Reno Aces on Monday evening at Aces Ballpark in the opener of a four-game series.
The defeat was the third in the last four games for Nashville (48-75) following a stretch of nine wins in the club's previous ten contests.
The 19 total runs scored on the night were the most in any game involving the Sounds this year. The teams did almost all of the scoring in the first half of the game, combining for 16 runs on 17 hits through the first five innings of action.
Third baseman Stephen Parker went 3-for-4 to pace the Nashville offense while pitcher Chris Narveson drove in three runs, best on the club for the evening.
Reno struck first, snapping Narveson's Sounds season-best scoreless innings streak at 16 2/3 frames by plating six runs as they sent 11 batters to the plate in the bottom of the first inning. Five of the six runs scored in the inning were unearned due to a throwing error by Parker at third base.
Tyler Bortnick opened the frame by drawing a walk and stole second before advancing to third on Chris Owings' grounder to third, a play on which the throw beat the runner to the bag but Hunter Morris was ruled to not be touching the base, allowing Owings to reach base.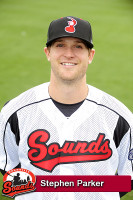 Ed Easley followed with an RBI single that gave the home team a 1-0 lead. The Aces doubled their advantage later in the frame on Brad Snyder's sacrifice fly. Tony Campana continued the scoring with a bleeder two-out, two-run single to left that made it a 4-0 game. The final two runs of the opening frame scored on a wild pitch and a single by Reno pitcher Matt Wright.
The Sounds got onto the board with a third-inning run against Wright. Parker led off with a double and later scored on a Narveson groundout to make it a 6-1 contest.
The Aces added to their lead in the home half of the third, plating three runs to up the advantage to 9-1.
Brad Snyder led off with a single and scored when Taylor Harbin tripled to the wall in left-center. Second baseman Eugenio Velez cut down Harbin at the plate two batters later as he attempted to score from third on a Wright grounder. After Owings walked to put runners on first and second with two down, Owings blooped a single to center that was booted by Kentrail Davis to allow both runners to score.
Nashville cut into the deficit in the fourth, plating four runs to chase Wright from the contest and pull within 9-5. Parker  got things started when he blooped an RBI single to center to plate Morris, who had singled earlier in the frame. Walks drawn by Josh Prince and Ozzie Chavez loaded the bases with two down for the Sounds.
After a Wright wild pitch allowed Prince to race home, Narveson helped his own cause by lacing an opposite-field, two-run double to the wall in left-center.
Narveson (4-7) took the loss after allowing nine runs (three earned) on eight hits in just three innings of action. His road ERA rose to 7.04 in eight starts (carries a 3.26 mark at Greer Stadium).
The Sounds continued to pull closer in the fifth, plating two runs off Aces reliever Chase Anderson to make it a two-run game at 9-7.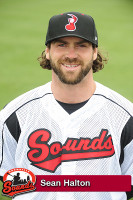 Velez and Sean Halton opened the frame with consecutive doubles. Velez's two-bagger was a hustle play where he took an extra base on a ball to left-center while Halton's was a mammoth shot to dead center that struck the batter's eye approximately 410 feet from home plate. Later in the inning, Robinzon Diaz brought Halton home with an RBI single to left.
Neither team scored again until the bottom of the seventh, when Reno added three more scores to increase the lead to 12-7. Owings delivered a two-run triple to left-center off Kyle Heckathorn that was nearly gloved by a diving Kentrail Davis. The Aces' second three-bagger of the night increased their lead to 11-7 and Easley followed with a run-scoring single to plate the third run of the frame.
Blayne Weller (1-0) picked up the victory for Reno with a scoreless inning of relief in his first appearance of the year for the Aces.
The teams continue their series with another 9:05pm CT meeting on Tuesday night. Right-hander R.J. Seidel (2-4, 4.90) will make the start for the Sounds and face Reno right-hander Mike Bolsinger (4-5, 4.01).
Box Score
Nashville Sounds (48-75) 7, Reno Aces (49-74) 12
August 12th, 2013
1
2
3
4
5
6
7
8
9
R
H
E
Nashville Sounds
0
0
1
4
2
0
0
0
0
7
8
2
Reno Aces
6
0
3
0
0
0
3
0
x
12
15
0
BATTING
2B: Parker, S (17, Wright, M), Narveson (4, Wright, M), Velez (6, Anderson, C), Halton (27, Anderson, C).
TB: Velez 2; Narveson 2; Diaz, R; Halton 2; Parker, S 4; Morris, H.
RBI: Narveson 3 (3), Parker, S (30), Halton (41), Diaz, R (16).
2-out RBI: Parker, S; Narveson 2.
Runners left in scoring position, 2 out: Velez; Davis, Ke; Chavez, O; Diaz, R.
Team RISP: 4-for-12.
Team LOB: 7.BASERUNNING
SB: Davis, Ke (6, 2nd base off Wright, M/Easley).
CS: Velez (2, 2nd base by Weller/Easley).FIELDING
E: Parker, S (15, throw), Davis, Ke (1, fielding).
a-Popped out for Campana in the 6th.
BATTING
2B: Owings, C (27, Narveson).
3B: Harbin (5, Narveson), Owings, C (7, Heckathorn).
TB: Jacobs; Bortnick 3; Snyder, B 2; Wright, M; Marte, A; Campana; Easley 2; Harbin 4; Owings, C 5.
RBI: Easley 2 (40), Snyder, B (45), Campana 2 (29), Wright, M (1), Harbin (32), Owings, C 3 (73).
2-out RBI: Campana 2; Wright, M; Owings, C.
Runners left in scoring position, 2 out: Owings, C; Easley 2; Rivera, J; Snyder, B.
SF: Snyder, B.
Team RISP: 8-for-19.
Team LOB: 10.BASERUNNING
SB: Bortnick 2 (15, 2nd base off Narveson/Diaz, R, 2nd base off Heckathorn/Diaz, R).
Webb pitched to 2 batters in the 7th.
WP: Narveson, Heckathorn, Wright, M, Marshall, E.
Pitches-strikes: Narveson 71-40, Lowe 49-34, Webb 17-9, Heckathorn 36-25, Wright, M 76-45, Anderson, C 31-20, Weller 14-8, Sipp 29-19, Marshall, E 19-10.
Groundouts-flyouts: Narveson 6-3, Lowe 4-0, Webb 0-0, Heckathorn 2-0, Wright, M 7-2, Anderson, C 3-1, Weller 1-0, Sipp 2-0, Marshall, E 1-0.
Batters faced: Narveson 21, Lowe 13, Webb 3, Heckathorn 9, Wright, M 18, Anderson, C 8, Weller 3, Sipp 7, Marshall, E 5.
Inherited runners-scored: Webb 2-0, Heckathorn 2-2, Anderson, C 1-0.
Ejections: Nashville Sounds Manager Mike Guerrero ejected by HP umpire Jeff Morrow (9th); Nashville Sounds Pitching Coach Fred Dabney ejected by HP umpire Jeff Morrow (9th)
Umpires: HP: Jeff Morrow. 1B: Greg Stanzak. 3B: Nick Bailey.
Weather: 83 degrees, partly cloudy.
Wind: 17 mph, L to R.
T: 3:28.
Att: 3,993.
Venue: Aces Ballpark.
August 12, 2013