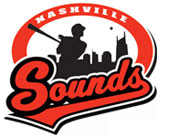 Reno, NV – The Nashville Sounds defeated the host Reno Aces by an 8-1 count on Wednesday evening at Aces Ballpark.
Left-hander Aaron Laffey (6-6) earned his second win with Nashville by hurling his second quality start for the club, holding the Aces to one run on seven hits over six strong innings of action.
Every starting Sounds position player recorded a knock in the contest, led by two-hit efforts from Kentrail Davis, Caleb Gindl, and Robinzon Diaz.
The Sounds grabbed a 1-0 first-inning lead with an unearned run against Charles Brewer. Davis (2-for-4, three runs) led off the contest with a single and later scored from second with two outs when Brewer uncorked a wild pitch and catcher Ed Easley misfired to third on the play.
Davis singled and scored again for Nashville in the third to double the Sounds' lead to 2-0. Eugenio Velez followed Davis with a grounder to second and Tyler Bortnick threw high to the bag on the force attempt to allow both runners to reach base. After Davis hustled to third on a flyout, he trotted home in unearned fashion on Sean Halton's groundout to second.
The Sounds made it a 6-0 contest in the fourth with four more scores against Brewer.  Stephen Parker led off with a double, moved to third on a Josh Prince single, and scored on Laffey's well-executed squeeze bunt. Two batters later, the red-hot Velez smacked a two-run single to center then stole second and scored the final run of the frame on Halton's two-out single up the middle.
Brewer (5-10) drew the loss for Reno after being touched for six runs on eight hits over four-plus innings of work.
Reno got onto the scoreboard in the home half of the fourth when Brad Snyder scored on a Laffey wild pitch. Gindl kept the Aces to a sole run when the left fielder handled a Alfredo Marte foul fly and threw out Easley at the dish with a strong one-hop throw to end the inning with a double play.
The Sounds continue their scoring in the eighth against Aces reliever Nate Adcock. Davis, who reached base three times on the night, drew a walk and later came plateward on a two-out single to right by Gindl, who went 2-for-5 in his first game back with Nashville.
Nashville tacked on one final run in the ninth as pinch-hitter extraordinaire Hainley Statia delivered an opposite-field RBI knock to left off Chase Anderson. Statia is hitting .450 (9-for-20) off the bench this season.
The Aces didn't produce a baserunner over the final three frames against the Sounds' bullpen. Jesus Sanchez followed Laffey with two hitless innings of relief before Dustin Molleken wrapped up the victory with a perfect ninth in his second appearance for the Sounds.
The Sounds will look to gain a series split when the clubs wrap up the four-game set with a 9:05pm CT finale on Thursday night. It will be a battle of pitching prospects as right-hander Johnny Hellweg (10-5, 2.75), the PCL's ERA leader, will man the bump for the Sounds and face Reno left-hander Tyler Skaggs (6-7, 4.12).
Box Score
Nashville Sounds (49-76) 8, Reno Aces (50-75) 1
August 14th, 2013
1
2
3
4
5
6
7
8
9
R
H
E
Nashville Sounds
1
0
1
4
0
0
0
1
1
8
13
1
Reno Aces
0
0
0
1
0
0
0
0
0
1
7
2
a-Singled for Sanchez, Je in the 9th.
BATTING
2B: Parker, S (18, Brewer), Diaz, R (5, Anderson, C).
TB: Velez; Prince; Diaz, R 3; Halton; Parker, S 3; Morris, H; Gindl 2; Statia; Davis, Ke 2.
RBI: Halton 2 (46), Laffey (2), Velez 2 (9), Gindl (46), Statia (20).
2-out RBI: Halton; Gindl.
Runners left in scoring position, 2 out: Morris, H; Diaz, R; Davis, Ke 3; Prince.
SAC: Laffey; Davis, Ke.
GIDP: Parker, S.
Team RISP: 6-for-17.
Team LOB: 11.BASERUNNING
SB: Velez (7, 2nd base off Brewer/Easley).FIELDING
E: Prince (12, throw).
Outfield assists: Gindl (Easley at home).
DP: 3 (Prince-Velez-Morris, H, Velez-Prince-Morris, H, Gindl-Diaz, R).
BATTING
TB: Jacobs; Bortnick; Snyder, B 2; Marte, A; Easley 2.
Runners left in scoring position, 2 out: Jacobs.
GIDP: Easley, Harbin.
Team RISP: 1-for-5.
Team LOB: 3.FIELDING
E: Easley (4, throw), Bortnick (5, throw).
DP: (Brewer-Wilson, Jo-Jacobs).
Brewer pitched to 2 batters in the 5th.
WP: Laffey, Brewer, Adcock.
Pitches-strikes: Laffey 76-47, Sanchez, Je 21-13, Molleken 8-6, Brewer 88-51, Camp 24-16, Adcock 33-19, Anderson, C 12-9.
Groundouts-flyouts: Laffey 8-3, Sanchez, Je 4-2, Molleken 1-0, Brewer 7-4, Camp 3-1, Adcock 4-1, Anderson, C 2-0.
Batters faced: Laffey 22, Sanchez, Je 6, Molleken 3, Brewer 25, Camp 6, Adcock 9, Anderson, C 6.
Inherited runners-scored: Camp 2-0.
Umpires: HP: Nick Bailey. 1B: Jeff Morrow. 3B: Greg Stanzak.
Weather: 93 degrees, clear.
Wind: 18 mph, L to R.
T: 2:45.
Att: 4,520.
Venue: Aces Ballpark.
August 14, 2013