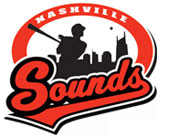 Nashville, TN –  The Nashville Sounds dropped the opener of a five-game series against the Round Rock Express on Friday evening , falling 7-4 in front of 8,714 fans at Greer Stadium.
Nashville (50-77) out-hit the Express, 10-8, in the contest and Sounds pitchers combined to strike out a season-high 15 batters in the losing effort.
Round Rock got off to a quick start against Sounds right-hander Jimmy Nelson, grabbing a 1-0 lead in the top of the first inning on Alex Buchholz's one-out RBI single.
The Express doubled their lead to 2-0 in the third when Engel Beltre led off with a double and scored on Mike Bianucci's one-out single to center.
The Sounds got on the board in the home half of the third when Stephen Parker drew a leadoff walk and later scored on a Eugenio Velez sacrifice fly to make it a 2-1 contest.
Parker powered Nashville to a 3-2 lead in the fifth when he slugged his first home run in 192 at-bats, a massive two-run bomb to right off Round Rock starter Jake Brigham. Blake Lalli, who led off the frame with a single, also scored on the third baseman's seventh big fly of the year.
Round Rock reclaimed the lead in the top of the sixth with a two-run homer of its own, a two-out Chris McGuinness shot to right-center off Nelson that put the visitors back on top by a 4-3 margin.
The Express tacked on three more scores later in the frame in unearned fashion after center fielder Kentrail Davis dropped Beltre's bases-loaded fly ball with two down. Two runs scored on that play and another when Buchholz added an infield single. On that play, Sounds shortstop Ozzie Chavez threw out Beltre at the plate as he also attempted to score.
Nelson (3-5) took the loss for the Sounds after allowing five runs (four earned) on six hits in his 5 2/3 innings. The right-hander struck out nine batters, one shy of his career high. His 109 pitches on the night were the most by a Nashville hurler all season.
Lalli — who is batting .351 (13-for-37) over his last nine games — pushed across Nashville's fourth run of the night in the bottom of the sixth with a one-out RBI single up the middle to plate Robinzon Diaz (3-for-5).
Brigham (5-3) earned the win for the Express after giving up four runs on nine hits in 5 1/3 frames.
The Sounds missed opportunities to reduce the deficit in the sixth and seventh, leaving the bases loaded in both frames without scoring.
Express right-hander Wilmer Font closed out the contest with a pair of hitless innings to earn his fourth save of the year.
The team square off against at 6:35pm on Saturday evening. Left-hander Chris Narveson (4-7, 5.14) will man the bump for the Sounds and face Round Rock right-hander Scott Richmond (4-5, 5.76).
Box Score
Round Rock Express (66-61) 7, Nashville Sounds (50-77) 4
August 16th, 2013
1
2
3
4
5
6
7
8
9
R
H
E
Round Rock Express
1
0
1
0
0
5
0
0
0
7
8
0
Nashville Sounds
0
0
1
0
2
1
0
0
0
4
10
2
BATTING
2B: Adduci (21, Nelson), Beltre, E (18, Nelson).
HR: McGuiness (9, 6th inning off Nelson, 1 on, 2 out).
TB: McGuiness 4; Bianucci; Adduci 3; Cunningham, A; Beltre, E 2; Buchholz 2.
RBI: Buchholz 2 (16), Bianucci (33), McGuiness 2 (51).
2-out RBI: McGuiness 2; Buchholz.
Runners left in scoring position, 2 out: Cunningham, A; Adduci; Bianucci.
Team RISP: 4-for-11.
Team LOB: 6.BASERUNNING
SB: Rodriguez, G (2, 2nd base off Nelson/Lalli).FIELDING
Outfield assists: Beltre, E (Chavez, O at 2nd base), Hoying (Davis, Ke at 2nd base).
DP: 2 (Hoying-Bianucci-Buchholz, McGuiness-Rodriguez, G-Brigham).
BATTING
2B: Velez (7, Brigham).
HR: Parker, S (7, 5th inning off Brigham, 1 on, 0 out).
TB: Chavez, O; Velez 2; Lalli 2; Diaz, R 3; Parker, S 4; Gindl; Davis, Ke.
RBI: Velez (10), Parker, S 2 (32), Lalli (30).
Runners left in scoring position, 2 out: Diaz, R; Prince; Davis, Ke 2; Lalli 2.
SF: Velez.
GIDP: Morris, H.
Team RISP: 2-for-10.
Team LOB: 10.FIELDING
E: Davis, Ke (2, fielding), Velez (4, fielding).
Round Rock Express
Player
IP
H
R
ER
BB
SO
HR
ERA
Jake Brigham (W, 5-3)
5.1
9
4
4
3
2
1
4.42
Nate Robertson (H, 10)
1.2
1
0
0
1
2
0
3.30
Wilmer Font (S, 4)
2.0
0
0
0
1
2
0
0.00
Totals
9.0
10
4
4
5
6
1
4.02
Nashville Sounds
Player
IP
H
R
ER
BB
SO
HR
ERA
Jimmy Nelson (L, 3-5)
5.2
6
5
4
2
9
1
3.78
Travis Webb
1.1
2
2
0
1
1
0
6.84
Johnnie Lowe
2.0
0
0
0
0
5
0
3.86
Totals
9.0
8
7
4
3
15
1
4.41
WP: Lowe.
Balk: Nelson.
HBP: Hoying (by Nelson), Gindl (by Robertson, N), Prince (by Robertson, N).
Pitches-strikes: Brigham 90-53, Robertson, N 34-23, Font 27-17, Nelson 109-67, Webb 33-21, Lowe 30-22.
Groundouts-flyouts: Brigham 6-4, Robertson, N 3-0, Font 1-0, Nelson 3-2, Webb 0-1, Lowe 1-1.
Batters faced: Brigham 25, Robertson, N 9, Font 7, Nelson 26, Webb 7, Lowe 7.
Inherited runners-scored: Robertson, N 2-0, Webb 1-1.
Umpires: HP: Brandon Misun. 1B: Spencer Flynn. 3B: Pat Hoberg.
Weather: 79 degrees, partly cloudy.
Wind: 1 mph, Varies.
T: 3:25.
Att: 8,714.
Venue: Herschel Greer Stadium.
August 16, 2013