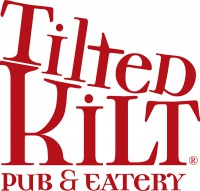 Clarksville, TN –  The popularity of Fantasy Football has skyrocketed in the past several years. To cater to this ever growing segment of the population (an estimated 36 million people), venues such as The Tilted Kilt are offering exclusive perks and specials.
The Tilted Kilt, located at 2790B Wilma Rudolph, offers free Fantasy Draft Parties with a long list of perks and specials just for the Fantasy Footballer.
Included are free whiteboard and wifi use, paper draft kits, an assigned "Kilt Girl Commissioner" to assist with the draft, prize drawings, drink and menu specials, and an MVP card good for 10% off when returning to watch the pro games.
"Our setup here at The Kilt is a perfect fit for the Fantasy Football enthusiast."  said Jamie Daniel, owner.  "The NFL itself has begun to cater to this segment of the population.  We are pleased to offer special incentives just for Fantasy Football Leagues and with our 60 televisions on site, provide the perfect venue for them to return to watch the games and track their teams."
Fantasy Football Draft Parties can reserve up to 4 hours at The Tilted Kilt for groups of 8 or more.
For more information or to schedule, call 931.645.5458.