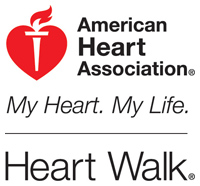 Nashville, TN – One month to go to Heart Walk time for Rutherford County! The American Heart Association's Rutherford Heart Walk and Fun Run will take place at Saint Thomas Rutherford Hospital on Saturday, September 14th, 2013.
This all-ages event is free and open to the entire community. Fundraising is highly encouraged. Teams can sign up and set fundraising goals at  www.rutherfordheartwalk.org. People can go on the site and join any team, and do individual fundraising. There is no registration fee.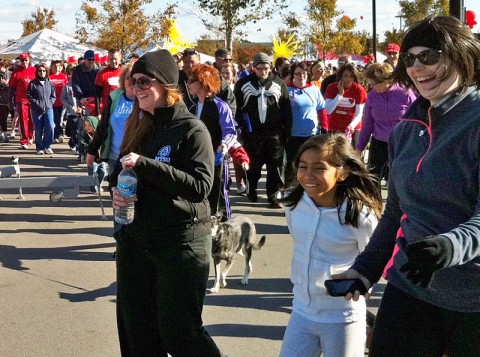 The annual event is a major fundraiser for the American Heart Association, and funds go to vital research, public health programs and community education about the no. 1 and No. 4 killers of Americans, heart disease and stroke.
This year's fundraising goal is $100,000. Track how much money has been raised at www.rutherfordheartwalk.org .
The non-competitive Fun Run starts at 8:25am, and the Walk start time is 8:30am. After the Walk, a festival will take place from 9:00am to 11:00am, featuring family-friendly interactive games, music, displays and activities (and Fido on a leash is welcome!).
David Hoke, president of The Hoke Company, is chair of the event, and Heart Walk honoree is Sandra Miller, General Manager of the DoubleTree Hotel in Murfreesboro and a stroke survivor.
The Heart Walk is part of the American Heart Association's My Heart. My Life. platform, encouraging Americans to get physically active and eat a healthy diet as steps toward a heart-healthy lifestyle and improved health of the community. Heart disease and stroke take the lives of 1 in 3 Americans, including 17,000 Tennesseans per year. But up to 80% of cardiovascular disease is preventable through healthy living choices we make every day.
The Heart Walk is nationally sponsored by Subway Restaurants and Jenny Craig.
The Rutherford County My Heart. My Life. cause sponsor is Saint Thomas Heart at Saint Thomas Rutherford Hospital.
Top local sponsors include Backer EHP, The Daily News Journal, DoubleTree by Hilton, FHB, Lamar Advertising, Murfreesboro Medical Clinic, MidSouth Bank, Tri-Star Title/Ole South Properties, Vanderbilt Heart, WGNS-FM and WKRN News 2.
For more information, contact Tanya Steinback at the American Heart Association at or 615.340.4102.
Photo Gallery