Sounds Allow Franchise-Most 20 Runs In Loss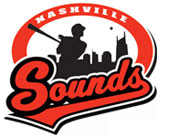 Nashville, TN – The Nashville Sounds surrendered the most runs in the franchise's 36-year history Monday night at Greer Stadium, losing 20-2 to the visiting Round Rock Express.
The Sounds previous high of 19 runs allowed, which happened on four occasions, was surpassed in the eighth inning when Aaron Cunningham hit his second home run of the night, a two-run jack off the clock in the guitar scoreboard.
To begin the record-setting night, the Express batted around in three consecutive innings to go up 14-2 on the Sounds before the fifth inning. Round Rock had four runs in the second and five in both the third and fourth.
Sounds starting pitcher Aaron Laffey (6-7) allowed the Express 11 runs in 3 1/3 innings of work, for the most allowed by a Sounds starter this season. The lefty was touched for 11 hits, and issued four walks on the night.
Reliever Tim Dillard picked up in the fourth inning, retiring his first batter with a strikeout before surrendering four two-out runs, one of which was charged to Laffey. He finished with three runs on three hits after 1 2/3 innings.
Outfielder Engle Beltre, 4-for-7, added to the Express lead in the seventh inning, touching reliever Brent Leach for a grand slam, the first allowed by Nashville pitchers since Adron Chambers hit one in Memphis on July 7th.
Right-handed pitcher Donovan Hand closed out the final two innings for Nashville, but was on the hill when Cunningham drove in Round Rock's final two runs.
Every player in the Express lineup recorded a hit on the night and either scored a run or drove in a run. Seven Express batters recorded multi-hit nights and four had three hits or more. Cunningham and Beltre led the team with five RBIs each, Robinson Chirinos had four.
Offensively, the Sounds recorded four hits. Outfielder Caleb Gindl's two-out single plated two runs for the Sounds. The knock scored Stephen Parker, who reached base on balls, and Ozzie Chavez, who singled to right.
Gindl's hit extended his season-best hit streak to a 10 games, dating back to July 7 before his big league call-up. It is the sixth time a Sound has logged a 10+ game hit streak this season.
Round Rock's starting pitcher Evan Meek (6-7) picked up his sixth win, holding Nashville to two runs across six innings of work.
Second baseman Eugenio Velez also recorded a hit in the third inning, extending his streak to eight games, which matches his previous season's best.
Robinzon Diaz connected for a double in the ninth inning to snap Round Rock's run of 17 consecutive batters retired.
The 20-2 loss is the largest margin of defeat for Nashville since joining the PCL in 1998. The Sounds 18-1 loss to the Memphis Redbirds on July 30th, 2000 at Greer Stadium was the previous largest.
The Sounds wrap their homestand with the Round Rock Express on Tuesday night at Greer Stadium. Throwing for Nashville will be RHP Johnny Hellweg (11-5, 2.77) opposite the Express' LHP Ryan Feierabend (6-4, 3.70).
Box Score
Round Rock Express (68-62) 20, Nashville Sounds (51-79) 2
August 19th, 2013
1
2
3
4
5
6
7
8
9
R
H
E
Round Rock Express
0
4
5
5
0
0
4
2
0
20
21
0
Nashville Sounds
0
0
2
0
0
0
0
0
0
2
4
2
BATTING
2B: Chirinos (10, Laffey), Butler, Jy (22, Laffey), Solarte (30, Laffey), Beltre, E (19, Leach).
HR: Cunningham, A 2 (9, 3rd inning off Laffey, 2 on, 1 out; 8th inning off Hand, D, 1 on, 2 out), Beltre, E (5, 7th inning off Leach, 3 on, 2 out).
TB: McGuiness; Bianucci 3; Solarte 4; Cunningham, A 9; Chirinos 3; Rodriguez, G 2; Beltre, E 8; Buchholz; Butler, Jy 3.
RBI: Solarte 2 (75), McGuiness (52), Beltre, E 5 (28), Chirinos 4 (39), Cunningham, A 5 (43), Rodriguez, G (2), Buchholz 2 (19).
2-out RBI: Chirinos 4; Rodriguez, G; Buchholz 2; Beltre, E 4; Cunningham, A 2.
Runners left in scoring position, 2 out: Buchholz 2; Bianucci 2; Butler, Jy.
GIDP: Bianucci.
Team RISP: 9-for-21.
Team LOB: 10.BASERUNNING
CS: Beltre, E (11, 2nd base by Laffey/Lalli).
PO: Beltre, E (1st base by Laffey).
BATTING
2B: Diaz, R (8, Pimentel, C).
TB: Chavez, O; Velez; Diaz, R 2; Gindl.
RBI: Gindl 2 (51).
2-out RBI: Gindl 2.
Runners left in scoring position, 2 out: Morris, H 2; Lalli.
Team RISP: 2-for-6.
Team LOB: 4.FIELDING
E: Velez (5, fielding), Prince (15, throw).
DP: (Prince-Velez-Parker, S).
Pickoffs: Laffey (Beltre, E at 1st base).
WP: Laffey, Dillard.
HBP: McGuiness (by Dillard).
Pitches-strikes: Meek 88-57, Feliz 17-10, Miller, J 4-1, Pimentel, C 25-18, Laffey 99-60, Dillard 47-25, Leach 44-27, Hand, D 39-23.
Groundouts-flyouts: Meek 12-1, Feliz 0-1, Miller, J 0-0, Pimentel, C 2-1, Laffey 3-2, Dillard 3-0, Leach 2-1, Hand, D 3-0.
Batters faced: Meek 23, Feliz 3, Miller, J 0, Pimentel, C 7, Laffey 24, Dillard 12, Leach 12, Hand, D 9.
Inherited runners-scored: Dillard 1-1.
Umpires: HP: Brandon Misun. 1B: Spencer Flynn. 3B: Pat Hoberg.
Weather: 83 degrees, partly cloudy.
Wind: 2 mph, L to R.
T: 3:27.
Att: 2,697.
Venue: Herschel Greer Stadium.
August 19, 2013