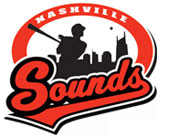 Albuquerque, NM – The Nashville Sounds never recovered from a six-run second inning Thursday night at Isotopes Park, losing 9-5 to the Albuquerque Isotopes.
After a perfect first inning, Sounds starter Zach Kroenke (5-15) ran into trouble in the second. The lefty, making the spot start for Chris Narveson, loaded the bases for Albuquerque's infielder Justin Sellers, who hit a triple past a diving Kentrail Davis in center field to put the 'Topes up three.
Dee Gordon kept the inning alive with a two-out RBI-single into right field, scoring Sellers to give Albuquerque a 4-0 lead. Gordon moved to third on Elian Herrera's single and came home when Scott Van Slyke sent Kroenke's pitch to the hill in center field for a two-run double.
Kroenke was charged his league-leading 15th loss, finishing with six runs allowed on eight hits and two walks over 5 1/3 innings pitched. The lefty fanned four Isotopes before reliever Johnnie Lowe took over to close out the sixth.
Isotopes' starting pitcher Red Patterson (7-4) served up a quality start for his seventh win of the season, limiting the Sounds to just three hits over six innings of work. He held Nashville hitless through 4 2/3 innings, including a stretch of 12 consecutive batters retired before Sounds shortstop Blake Davis broke through with a single into left field.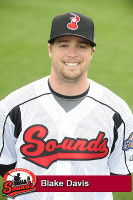 Blake Davis' hit extends his hit streak to eight games, which matches his previous season-best recorded from April 28 to May 9th.
Patterson left the game after six innings and the Sounds took advantage of the change, jumping on reliever Blake Johnson for four runs in the seventh.
Blake Davis, 2-for-4, got the Sounds on the board first with a two-run triple into right field and then scored on Stephen Parker's pinch-hit sacrifice fly.
With two outs in the inning Kentrail Davis, 2-for-4, belted his first home run as a Sound to make it a 6-4 game. Kentrail Davis' solo shot snapped a personal stretch of 224 at-bats without a homer and a three-game team draught.
Despite the rally, the Isotopes pulled away in the home half of the seventh inning, when Eliezer Alfonzo hit a three-run two-out home run off of Sounds reliever Travis Webb for a 9-4 lead.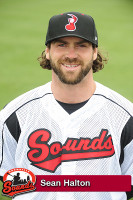 Robinzon Diaz, 2-for-4, scored the Sounds final run of the game in the eighth inning when Kelvin De La Cruz chucked a wild pitch with runners on the corners. Diaz reached base on a single and moved to third on catcher Blake Lalli's second hit of the night.
Outfielder Sean Halton, back from his second stint in Milwaukee, picked up a double in the sixth inning to give him his fourth hit streak of five games or more this season.
Infielder Eugenio Velez extended his season-best hit streak to 11 games with a single in the seventh inning.
The Sounds play game three on Friday night at Isotopes Park and send RHP Alfredo Figaro (0-0, 2.25) to the hill opposite Albuquerque's RHP Angel Castro (8-4, 3.54). The game begins at 8:05pm.
Baseball returns to Greer Stadium on Friday, August 30th, for the team's final homestand of the season.
Box Score
Albuquerque Isotopes (69-64) 9, Nashville Sounds (51-82) 5
August 22nd, 2013
1
2
3
4
5
6
7
8
9
R
H
E
Nashville Sounds
0
0
0
0
0
0
4
1
0
5
10
0
Albuquerque Isotopes
0
6
0
0
0
0
3
0
x
9
11
0
a-Hit a sacrifice fly for Lowe in the 7th.
BATTING
2B: Halton (28, Patterson).
3B: Davis, B (5, Johnson, B).
HR: Davis, Ke (1, 7th inning off Johnson, B, 0 on, 2 out).
TB: Velez; Lalli 2; Diaz, R 2; Halton 2; Davis, B 4; Davis, Ke 5.
RBI: Davis, B 2 (28), Parker, S (36), Davis, Ke (9).
2-out RBI: Davis, Ke.
Runners left in scoring position, 2 out: Kroenke; Morris, H 2.
SF: Parker, S.
GIDP: Morris, H, Velez, Parker, S.
Team RISP: 1-for-6.
Team LOB: 6.FIELDING
DP: 3 (Davis, B-Velez-Morris, H 2, Velez-Davis, B-Morris, H).
BATTING
2B: Van Slyke (15, Kroenke).
3B: Sellers (3, Kroenke), Buss (11, Webb).
HR: Alfonzo (1, 7th inning off Webb, 2 on, 2 out).
TB: Van Slyke 2; Castellanos, A; Herrera, E; Sellers 4; Alfonzo 5; Buss 4; Gordon, D 2.
RBI: Sellers 3 (60), Gordon, D (30), Van Slyke 2 (43), Alfonzo 3 (8).
2-out RBI: Gordon, D; Van Slyke 2; Alfonzo 3.
Runners left in scoring position, 2 out: Alfonzo; De La Cruz, K.
GIDP: Castellanos, A, Alfonzo, Butera.
Team RISP: 5-for-11.
Team LOB: 4.BASERUNNING
SB: Herrera, E (15, 2nd base off Kroenke/Lalli), Gordon, D (47, 2nd base off Webb/Lalli).FIELDING
DP: 3 (Gordon, D-Herrera, E-Alfonzo, Herrera, E-Gordon, D-Alfonzo 2).
WP: De La Cruz, K.
HBP: Buss (by Kroenke).
Pitches-strikes: Kroenke 88-55, Lowe 3-2, Webb 21-11, Dillard 27-17, Patterson 95-63, Johnson, B 31-15, De La Cruz, K 37-24.
Groundouts-flyouts: Kroenke 6-3, Lowe 1-0, Webb 1-0, Dillard 1-1, Patterson 7-3, Johnson, B 0-1, De La Cruz, K 1-1.
Batters faced: Kroenke 25, Lowe 1, Webb 6, Dillard 5, Patterson 22, Johnson, B 8, De La Cruz, K 9.
Inherited runners-scored: Lowe 2-0, Dillard 1-0, De La Cruz, K 2-0.
Umpires: HP: Shaun Lampe. 1B: Stu Scheurwater. 3B: Tom Litchfield.
Weather: 89 degrees, partly cloudy.
Wind: 11 mph, Out to LF.
T: 3:03.
Att: 7,924.
Venue: Isotopes Park.
August 22, 2013