Alb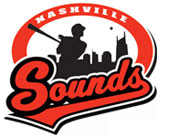 uquerque, NM – Despite stringing together a five-run seventh-inning rally to go ahead of the Albuquerque Isotopes Friday night at Isotopes Park, the Nashville Sounds were unable to hold off the 'Topes final charge, losing 9-7 for the team's sixth consecutive loss.
Sounds reliever Brent Leach (0-2) entered the game in the eighth inning with Nashville leading 6-5. The right-handed pitcher allowed a single to his first batter before recording two outs. A single from former Sound Tony Gwynn Jr. put runners on the corners for the 'Topes and ended Leach's night.
Dustin Molleken stepped to the hill for Nashville to record the final out of the inning, but not before Chili Buss hit the two-run game-winning double off of a sliding Sean Halton in right field. Alex Castellanos added a pair of insurance runs in the frame with a single to shallow left field.
The Sounds put together a similar rally just one inning before, trailing 4-1 in the seventh. Nashville started out with two hits and a walk to set the table for pinch hitter Hunter Morris, who lined a double to the right-field corner to make it a 4-3 ballgame.
Kentrail Davis followed Morris with a three-run homer to dead center field to give Nashville its first lead of the night. Davis recorded his first Triple-A home run on Thursday night and his effort over the two days marks the 12th time a Sound has homers on back-to-back nights this season.
Albuquerque picked up two runs in the first inning off of Sounds starter Alfredo Figaro. With the bases loaded, Buss hit a sacrifice fly to the wall in deep center field, where Kentrail Davis made the out while falling backwards up the hill. Two runners scored on the play, before Davis threw out Scott Van Slyke at third base for the double play.
Figaro pitched four innings in his second start for Nashville, allowing Albuquerque four runs, two earned, on five hits. He walked three and fanned two before R.J. Seidel took over in the fifth inning to log two scoreless frames for Nashville.
With two outs in the home half of the fourth inning, Figaro committed an error attempting to throw out the speedy Dee Gordon at first base. The ball sailed over Lalli to put two runners in scoring position. On the next play, catcher Robinzon Diaz threw attempted a put out at first, but through the ball past Lalli into foul territory, which scored both runners.
Sounds catcher Robinzon Diaz put the Sounds on the board in the fourth inning with a towering home run to center field. The solo shot was Diaz's fourth of the season . Nashville plated their final run in the ninth via Eugenio Velez's triple to center field. The knock extends Velez's season-best hit streak to 12 games.
The Isotopes picked up a run in the seventh inning to pull within one run of Nashville when Van Slyke singled home Gwynn Jr., who tripled to lead off the inning. A single through the infield followed to put runners on the corners with no outs, but Sounds reliever Kyle Heckathorn escaped the inning without allowing the tying run to score.
Leach was charged with the loss, his second, while Albuquerque's Sean White (4-6) picked up the win with two innings of relief work.
The Sounds play game four on Saturday night at Isotopes Park and send LHP Aaron Laffey (6-7, 6.36) to the hill opposite Albuquerque's RHP Stephen Fife (1-4, 6.11).
Baseball returns to Greer Stadium on Friday, August 30th, for the team's final homestand of the season.
Box Score
| | 1 | 2 | 3 | 4 | 5 | 6 | 7 | 8 | 9 | R | H | E |
| --- | --- | --- | --- | --- | --- | --- | --- | --- | --- | --- | --- | --- |
| Nashville Sounds | 0 | 0 | 0 | 1 | 0 | 0 | 5 | 0 | 1 | 7 | 9 | 3 |
| Albuquerque Isotopes | 2 | 0 | 0 | 2 | 0 | 0 | 1 | 4 | X | 9 | 13 | 1 |
a-Doubled for Seidel in the 7th. b-Flied out for Molleken in the 9th.
BATTING
2B: Morris, H (21, White).
3B: Velez (1, Moylan).
HR: Diaz, R (4, 4th inning off Castro, A, 0 on, 1 out), Davis, Ke (2, 7th inning off White, 2 on, 0 out).
TB: Velez 3; Lalli 2; Prince; Diaz, R 4; Davis, B; Morris, H 3; Davis, Ke 4.
RBI: Diaz, R (17), Morris, H 2 (65), Davis, Ke 3 (12), Velez (14).
Runners left in scoring position, 2 out: Davis, B 2; Statia.
Team RISP: 4-for-9.
Team LOB: 6.BASERUNNING
PO: Halton (2nd base by White).FIELDING
E: Figaro (1, throw), Diaz, R 2 (10, throw, throw).
Outfield assists: Davis, Ke (Van Slyke at 3rd base).
a-Grounded out for Baker, Jo in the 7th. b-Singled for White in the 8th.
BATTING
2B: Herrera, E (13, Figaro), Buss (26, Molleken).
3B: Gwynn (5, Heckathorn).
TB: Van Slyke 2; Castro, A; Castellanos, A 2; Barden; Herrera, E 3; Gwynn 5; Buss 3.
RBI: Buss 4 (92), Van Slyke (44), Castellanos, A 2 (58).
2-out RBI: Buss 2; Castellanos, A 2.
Runners left in scoring position, 2 out: Castro, A; Castellanos, A 2; Gwynn; Baker, Jo; Alfonzo 2.
SF: Buss.
Team RISP: 3-for-13.
Team LOB: 10.BASERUNNING
SB: Van Slyke (7, 2nd base off Seidel/Diaz, R).FIELDING
E: Herrera, E (11, fielding).
Pickoffs: White (Halton at 2nd base).
Albuquerque Isotopes
Player
IP
H
R
ER
BB
SO
HR
ERA
Angel Castro
6.0
3
3
2
3
4
1
3.51
Sean White (BS, 2)(W, 5-6)
2.0
4
3
3
1
0
1
3.59
Peter Moylan (S, 4)
1.0
2
1
1
0
2
0
2.93
Totals
9.0
9
7
6
4
6
2
4.01
Castro, A pitched to 2 batters in the 7th.
WP: Heckathorn.
Balk: Moylan.
Pitches-strikes: Figaro 79-47, Seidel 34-19, Heckathorn 22-16, Leach 14-9, Molleken 7-3, Castro, A 98-59, White 38-21, Moylan 20-14.
Groundouts-flyouts: Figaro 6-3, Seidel 1-3, Heckathorn 2-0, Leach 0-0, Molleken 1-0, Castro, A 10-3, White 4-1, Moylan 0-1.
Batters faced: Figaro 21, Seidel 8, Heckathorn 6, Leach 4, Molleken 4, Castro, A 25, White 10, Moylan 5.
Inherited runners-scored: Molleken 2-2, White 2-2.
Umpires: HP: Stu Scheurwater. 1B: Kellen Levy. 3B: Shaun Lampe.
Weather: 85 degrees, cloudy.
Wind: 14 mph, R to L.
T: 3:24.
Att: 8,349.
Venue: Isotopes Park.
August 23, 2013