Nashville's Stephen Parker Goes 3-For-5, A Single Shy Of Cycle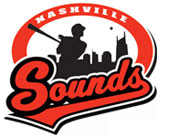 Albuquerque, NM – The Nashville Sounds avoided a five-game series sweep and snapped a seven-game losing streak by defeating the Albuquerque Isotopes, 10-5, in the series finale Sunday night at Isotopes Park, highlighted by a 3-for-5 effort by third baseman Stephen Parker.
With the rain coming down in the sixth inning of a tie game, Parker delivered the go-ahead run for Nashville via the long ball. The solo shot to dead center field marked Parker's eighth home run of the season and put the Sounds ahead 5-4.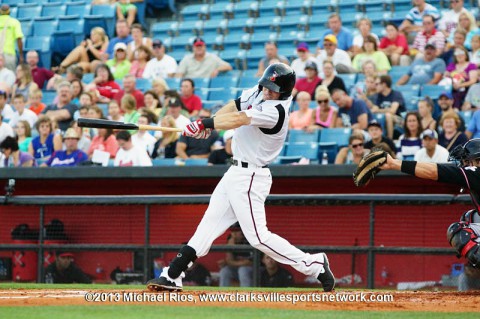 In the following inning with the bases-loaded, Parker lifted a pitch from reliever Blake Johnson (6-6) to left-center field for a bases-clearing three-run triple to put the game out of reach for the home team. Parker finished with four RBIs, two runs, and a single shy of the cycle.
Johnson was charged the loss, allowing Nashville five runs on five hits over two innings of work.
The Sounds initially trailed 1-0, but broke away with four runs in the in the fifth inning. Parker doubled to start the frame, and Sounds starting pitcher Johnny Hellweg helped his own cause with an RBI-single up the middle.
Nashville continued to work the bases loaded and with two outs before Sean Halton drew a walk from 'Topes tosser Matt Palmer to give Nashville the 2-1 advantage. First baseman Hunter Morris doubled the Sounds score with a single to right-center field.
The 'Topes got on the board in the first inning with an RBI-double from former Sound Tony Gwynn Jr., scoring Dee Gordon. Hellweg ended his 33-pitch first inning by getting Brian Barden to strike out with the bases loaded.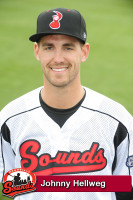 Hellweg was faced with a similar two-out bases-loaded situation in the bottom of the fifth inning, but this time Barden connected for a bases-clearing triple to knot the game at four runs apiece, which ended Hellweg's night at 111 pitches, the most by a Sounds starter this season.
Hellweg racked up seven strikeouts to six walks, both matching season highs, before Donovan Hand (3-1) took over to close out the fifth inning for Nashville. Hand stayed in the game to deliver a total of 2 1/3 scoreless innings for his third win. He struck out three and walked one.
Dustin Molleken also saw work from the Sounds bullpen, loading the bases in the eighth before recording his first outs on a double-play in which the 'Topes picked up a run. He finished the game for Nashville.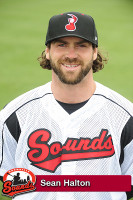 Sounds infielder Eugenio Velez, 2-for-3, connected for a single in the first to extend his season-best hit streak to 14 games, which matches Parker's team season-high that he record from April 28th to May 11th.
Nashville scored their 10th run when Sean Halton grounded into a double play in the eighth inning; Kentrail Davis, 2-for-4, scored from third.
The Sounds begin their final road series of the season Monday night against the Oklahoma City RedHawks at Chickasaw Bricktown Ballpark. Throwing for Nashville will be RHP Jimmy Nelson (3-6, 4.09) opposite Oklahoma City's RHP Ross Seaton (3-6, 8.15).
Baseball returns to Greer Stadium on Friday, August 30th, for the team's final homestand of the season.
Box Score
Albuquerque Isotopes (71-65) 5, Nashville Sounds (52-84) 10
August 25th, 2013
1
2
3
4
5
6
7
8
9
R
H
E
Nashville Sounds
0
0
0
0
4
1
4
1
0
10
13
1
Albuquerque Isotopes
1
0
0
0
3
0
0
1
0
5
5
0
BATTING
2B: Parker, S (19, Palmer).
3B: Parker, S (1, Johnson, B).
HR: Parker, S (8, 6th inning off Johnson, B, 0 on, 0 out).
TB: Velez 2; Diaz, R; Prince 2; Hellweg; Parker, S 9; Morris, H 2; Davis, Ke 2.
RBI: Hellweg (3), Halton (48), Morris, H 2 (67), Parker, S 4 (40), Diaz, R (19).
2-out RBI: Halton; Morris, H 2.
Runners left in scoring position, 2 out: Morris, H 2; Diaz, R; Hand, D.
GIDP: Prince, Halton.
Team RISP: 6-for-14.
Team LOB: 7.BASERUNNING
CS: Velez (3, 2nd base by Palmer/Butera).FIELDING
E: Diaz, R (11, pickoff).
DP: (Davis, B-Velez-Morris, H).
a-Struck out for De La Cruz, K in the 5th. b-Grounded out for White in the 9th.
BATTING
2B: Gwynn (12, Hellweg).
3B: Barden (3, Hellweg).
TB: Barden 4; Gwynn 3; Gordon, D.
RBI: Gwynn (26), Barden 3 (53).
2-out RBI: Barden 3.
Runners left in scoring position, 2 out: Barden 4; Angle; Sellers; Alfonzo.
GIDP: Gordon, D.
Team RISP: 2-for-12.
Team LOB: 10.BASERUNNING
SB: Gordon, D (49, 2nd base off Hellweg/Diaz, R), Buss (20, 2nd base off Hellweg/Diaz, R).FIELDING
DP: 2 (Palmer-Sellers-Van Slyke, Sellers-Gordon, D-Van Slyke).
Garcia, O pitched to 1 batter in the 8th.
WP: Hellweg 3.
HBP: Castellanos, A (by Hellweg), Herrera, E (by Molleken).
Pitches-strikes: Hellweg 111-61, Hand, D 45-30, Molleken 41-20, Palmer 93-55, De La Cruz, K 1-1, Johnson, B 47-27, Garcia, O 7-3, White 22-14.
Groundouts-flyouts: Hellweg 4-1, Hand, D 1-2, Molleken 2-1, Palmer 7-2, De La Cruz, K 0-1, Johnson, B 2-0, Garcia, O 0-0, White 2-2.
Batters faced: Hellweg 25, Hand, D 8, Molleken 9, Palmer 23, De La Cruz, K 1, Johnson, B 12, Garcia, O 1, White 7.
Inherited runners-scored: Hand, D 1-0, De La Cruz, K 2-0, White 1-1.
Umpires: HP: Shaun Lampe. 1B: Stu Scheurwater. 3B: Kellen Levy.
Weather: 81 degrees, cloudy.
Wind: 15 mph, R to L.
T: 3:47.
Att: 11,568.
Venue: Isotopes Park.
August 25, 2013