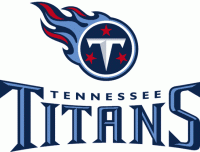 Nashville, TN – The Tennessee Titans defense had something to prove after last week's performance against the Cincinnati Bengals. And prove it they did, holding the vaulted Atlanta Falcons offense led by Matt Ryan to only field goals in the first half. In fact, the Titans were able to sack Ryan five times.
The Tennessee offense started slow on their first two possessions before Jake Locker but together a 5 play scoring drive capped by a 7 yard pass to Nate Washington in the back of the end zone. This got the Titans going and they never let off the gas going on to beat the Falcons 27-16.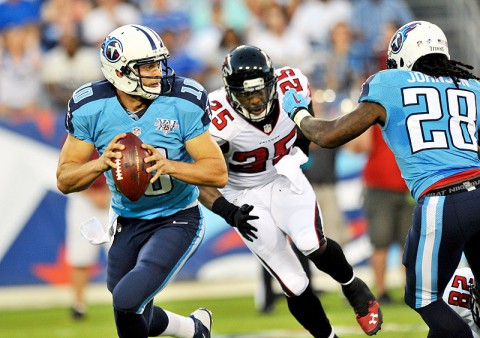 Atlanta was able to move the ball well on their first drive. But then Tennessee's defense stiffened and on 3rd and 3 on the Titan's 6, Moise Fokou and Karl Klug sack Matt Ryan for a 3 yard loss forcing the Falcons to settle for 3.
Tennessee got off to a slow start on offense. On their first drive, with 3rd and 7 from their own 35, Jack Locker is forced to scramble right for 6 yards but fumbles with Atlanta recovering. Again, the Titans defense holds and Atlanta comes away with another field goal.
"You have to put the ball away, and you can't have turnovers like that," stated Locker.
In the 2nd quarter, the Titans get the ball on their own 36 yard line. Locker connects to Kenny Britt for two passes (18 yards and 16 yards) to move Tennessee to the Atlanta 30. Chris Johnson goes off right tackle for a 19 yards burst followed by a 4 yard run.
On 2nd and 6, Tennessee brings in Shonn Greene for the short yardage situation. Here Green shows his value to the Titans. With Greene in and it being short yardage, the linebackers were up near the line of scrimmage. Locker fakes the hand off to Greene which makes the safeties take two steps toward the line. This is all Nate Washington needed to take a post route behind them. Locker connects to Washington for a 7 yard touchdown.
"We started off a little slow," said Locker. "We didn't get a whole lot of plays in the first quarter, but we really came back in the second quarter. I think we controlled the ball, controlled the line of scrimmage.  We were able to do really well in the play-action game, moved the ball down the field and were able to put some points on the board."
In the second half, Locker was only in for one series of plays. Ryan Fitzpatrick then came in and the offense didn't miss a beat. Fitzpatrick was 6 of 9 for 76 yards, two touchdowns and one1 interception. Jake Locker finished with 133 yards on 11 of 13 attempts with one touchdown and a 134.1 passer rating.
Chris Johnson had 65 yards on 11 attempts. Veteran Nate Washington pulled in 4 balls for 70 yards and a touchdown. Michael Preston was also impressive with 68 yards and a touchdown on 3 receptions. One was a 56 yards strike from Fitzpatrick.
Matt Ryan had 138 yards on 11 of 19 attempts for the Falcons. Dominique Davis was 7 of 14 attempts for 105 yards, one touchdown and one interception. Steven Jackson ran for 51 yards on 12 attempts. Julio Jones had 4 receptions for 81 yards. Darius Johnson got 62 yards and a touchdown off 4 grabs. In his first game back, tight end Tony Gonzalez caught two balls for 21 yards.
"Obviously, a great team win for us in the preseason, it is always nice to win no matter when it is," state Titans Head Coach Mike Munchak. "We came out against a good football team and I thought the defense early (they) got some yards, but we held them to field goals, field goal tries. We did a great job on third downs which allowed the offense, we had a little slow start the first couple of series with the turnover."
"Then all of sudden we did a great job and it is 7-6. We are in the game and we have momentum. We won a lot of situations, won third down, won the red zone, we won the two-minute drills at the end of the half and we held them and then we scored a field goal to finish the half," said Munchak. "So, a lot of good things there to finish the game in the four-minute which was good also. A lot of things we hadn't been as consistent with in the first couple of weeks all came together tonight, so that was good to see."
Tennessee Titans Scratches
#13 WR Kendall Wright
#26 S Markelle Martin
#45 FB Quinn Johnson
#50 LB Zaviar Gooden
#52 LB Colin McCarthy
#55 LB Zach Brown
#56 LB Akeem Ayers
#82 TE Delanie Walker
#83 WR Marc Mariani
#86 TE DeMarco Cosby
#87 WR Kevin Walter
#92 DE Ropati Pitoitua
#94 DT Sammie Hill
Starting Lineup Changes
#84 Taylor Taylor Thompson starts at TE in place of #82 Delanie Walker
#79 Antonio Johnson starts at DT in place of #94 Sammie Hill
#98 Lavar Edwards starts at DE in place of #95 Kamerion Wimbley
#57 Patrick Bailey starts at LB in place of #56 Akeem Ayers
#59 Tim Shaw starts at LB in place of #55 Zach Brown
Atlanta Falcons Scratches
#54 LB Stephen Nicholas
#84 WR Roddy White
Box Score
Atlanta Falcons
| | | | | |
| --- | --- | --- | --- | --- |
| Passing | CP/AT | YDS | TD | INT |
| M. Ryan | 11/19 | 138 | 0 | 0 |
| Dom. Davis | 7/14 | 105 | 1 | 1 |
| Rushing | ATT | YDS | TD | LG |
| S. Jackson | 12 | 51 | 0 | 13 |
| Dom. Davis | 2 | 45 | 0 | 43 |
| J. Rodgers | 3 | 9 | 0 | 7 |
| J. Snelling | 3 | 1 | 0 | 2 |
| Receiving | REC | YDS | TD | LG |
| J. Jones | 4 | 81 | 0 | 42 |
| D. Johnson | 4 | 62 | 1 | 41T |
| C. Coffman | 2 | 24 | 0 | 19 |
| T. Gonzalez | 2 | 21 | 0 | 14 |
| K. Cone | 1 | 19 | 0 | 19 |
| H. Douglas | 1 | 16 | 0 | 16 |
| S. Jackson | 3 | 15 | 0 | 11 |
| J. Snelling | 1 | 5 | 0 | 5 |
| Fumbles | FUM | LOST | REC | YDS |
| J. Bartu | 0 | 0 | 0 | 0 |
| T. DeCoud | 0 | 0 | 1 | 0 |
| Kicking | FG | LG | XP | PTS |
| J. Shelley | 3/4 | 32 | 1/1 | 10 |
| Punting | NO | AVG | I20 | LG |
| M. Bosher | 4 | 45.8 | 2 | 61 |
| Kickoff Returns | NO | AVG | TD | LG |
| J. Rodgers | 1 | 32 | 0 | 32 |
| Punt Returns | NO | AVG | TD | LG |
| H. Douglas | 2 | 11 | 0 | 20 |
Tennessee Titans
| | | | | |
| --- | --- | --- | --- | --- |
| Passing | CP/AT | YDS | TD | INT |
| J. Locker | 11/13 | 133 | 1 | 0 |
| R. Fitzpatrick | 6/9 | 76 | 2 | 1 |
| Rushing | ATT | YDS | TD | LG |
| C. Johnson | 11 | 65 | 0 | 20 |
| J. Battle | 13 | 41 | 0 | 5 |
| R. Fitzpatrick | 2 | 29 | 0 | 19 |
| J. Locker | 3 | 22 | 0 | 13 |
| S. Greene | 5 | 17 | 0 | 8 |
| R. Smith | 2 | -3 | 0 | -1 |
| Receiving | REC | YDS | TD | LG |
| N. Washington | 4 | 70 | 1 | 34 |
| M. Preston | 3 | 68 | 1 | 56 |
| K. Britt | 3 | 42 | 0 | 18 |
| T. Thompson | 2 | 21 | 0 | 16 |
| C. Stevens | 1 | 5 | 0 | 5 |
| D. Williams | 1 | 5 | 0 | 5 |
| J. Hunter | 1 | 3 | 1 | 3T |
| C. Mooney | 1 | 0 | 0 | 0 |
| C. Johnson | 1 | -5 | 0 | -5 |
| Fumbles | FUM | LOST | REC | YDS |
| J. Locker | 1 | 1 | 0 | 0 |
| Kicking | FG | LG | XP | PTS |
| R. Bironas | 2/2 | 53 | 1/1 | 7 |
| M. Bonani | 0/0 | 0 | 2/2 | 2 |
| Punting | NO | AVG | I20 | LG |
| B. Kern | 3 | 38.7 | 1 | 57 |
| Kickoff Returns | NO | AVG | TD | LG |
| D. Reynaud | 2 | 16 | 0 | 19 |
| K. Wooten | 1 | 28 | 0 | 28 |
| Punt Returns | NO | AVG | TD | LG |
| D. Reynaud | 1 | 1 | 0 | 1 |