Dallas, TX – In the case of mild or moderate strokes, getting treatment ultra-fast – within 90 minutes of experiencing symptoms – greatly reduces the risk of suffering disability, according to a new study reported in the American Heart Association's journal Stroke.
The American Heart Association/American Stroke Association recommends getting to a hospital within three hours of the onset of stroke symptoms. According to guidelines, clot-busting drugs may be given to treat stroke up to  4.5 hours after the onset of symptoms.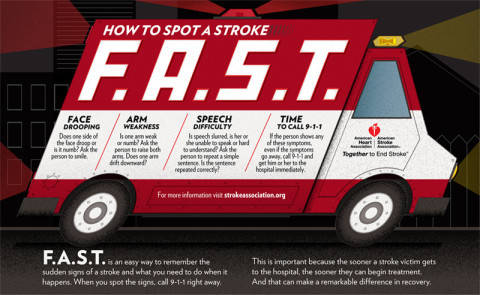 The study found that survivors with mild to moderate strokes who were given the clot-busting drugs in the first 90 minutes of the recommended time window had little or no disability three months later compared to those who were treated between 90 and 270 minutes.
"Ultra-early treatment increases the likelihood of excellent outcome in patients with moderately severe symptoms, and in secondary analysis also in those with mild symptoms," said Daniel Strbian, M.D., Ph.D., from the Department of Neurology at Helsinki University Central Hospital in Helsinki, Finland. "All measures must be taken to reduce onset-to-treatment time as much as possible."
The study included more than 6,800 stroke patients at 10 stroke centers in Europe over 14 years. They were treated intravenously with Alteplase, a clot-busting drug that is given through an IV in the vein. Patients were separated into three groups based on stroke severity – minor (NIH stroke score 0-6), mild/moderate (NIH score 7-12), or moderate/severe (NIH score higher than 12).
Those with mild to moderate stroke seemed to benefit most from the ultra-early care. Early treatment also helped those with minor strokes, but the likelihood of disability is already very low in these patients.
Tennessee is located in the "stroke belt" of the U.S., with high incidence. Stroke is the fifth-leading killer of Tennesseans, taking the lives of 3200 per year. African-Americans have nearly twice the risk as whites of suffering a first-ever stroke.
Those with severe stroke did not benefit as much from the ultra-early treatment because they had severe artery blockage.
"We need more research to offer something more for people with severe strokes," Strbian said.
Co-authors are Peter Ringleb, M.D., Ph.D., and Patrik Michel, M,D. Author disclosures are on the manuscript.
The American Heart Association/American Stroke Association's Target: Stroke program aims to help hospital teams quickly get clot busting drugs to stroke patients who need them.
F.A.S.T. is an easy way to remember the sudden signs of stroke. When you can spot the signs, you'll know that you need to call 9-1-1 for help right away. F.A.S.T. is:
F-Face drooping. Does one side of the face droop or is it numb?
A-Arm weakness. Is one arm weak or numb?
S-Speech difficulty. Is the speech slurred or incoherent?
T-Time to call 9-1-1 when someone is experiencing these symptoms.
Follow @HeartNews on Twitter for the latest heart and stroke news.
For stroke science, follow the Stroke journal at @StrokeAHA_ASA