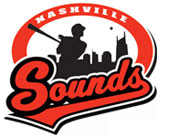 Oklahoma City, OK – The Nashville Sounds doubled up the Oklahoma City RedHawks, 6-3, on Monday evening at Chickasaw Bricktown Ballpark in the opener of a four-game series.
With the win, the Sounds (53-84) snapped Oklahoma City's 17-game home winning streak and posted back-to-back road victories for just the fifth time all season. Nashville rapped out 15 hits but also left a season-high 16 runners on base on the night.
Josh Prince homered and drove in a pair of runs for the Sounds, while red-hot Eugenio Velez went 3-for-6 to extend a pair of streaks, moving his team-best hitting streak to 15 games and his on-base streak to 29 games. Velez is batting .333 (22-for-66) during his 15-game hit streak, the longest by a Sound all season.
Nashville jumped out to a 4-0 lead by batting around in the top of the third against RedHawks starter Ross Seaton.
Prince spotted the Sounds a 1-0 lead when he led off the frame with his 11th homer of the year, a deep drive to left off Seaton.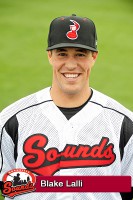 The rally continued against Seaton as Velez followed with a double to right and Sean Halton drew a walk. Two batters later, Blake Lalli cracked an RBI single to right to up the Nashville advantage to 2-0. Catcher Anderson De La Rosa (4-for-5) dumped a single to shallow left to bring home Halton for a three-run cushion and Stephen Parker plated Lalli with a groundout to make it a 4-0 contest.
Oklahoma City got onto the board in the home half of the fourth. Jimmy Paredes drew a one-out walk and later scored on Jonathan Singleton's one-out single to center off Jimmy Nelson. The Nashville right-hander limited the damage in the frame after facing a one-out, bases-loaded jam.
Nelson (4-6) snapped a two-start losing streak by earning the win for Nashville by limiting the RedHawks to one run on five hits while fanning seven batters over five frames of action, a 101-pitch effort.
Seaton (3-7) took the loss after being tagged for four runs on nine hits over 4 1/3 innings of work.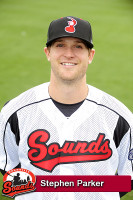 The Sounds had runners in scoring position with less than two outs in the fifth, sixth, and eighth innings, but they were unable to add to their lead until the ninth.
Brent Leach worked a pair of scoreless relief frames for Nashville, recording strikeouts for five of his six outs recorded, before Kyle Heckathorn escaped a jam in the eighth. With runners on second and third and two down, he retired Trevor Crowe, the potential tying run, on a hard-hit liner to center to quell the threat.
In the top of the ninth, Nashville tacked on two insurance runs against Hector Ambriz to extend the lead to 6-1. Lalli and De La Rosa opened the frame with consecutive singles and moved into scoring position on a wild pitch. Parker grounded an RBI single through the right side of the infield to bring in Lalli for a 5-1 lead.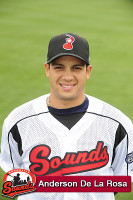 Following a Hainley Statia strikeout, Kentrail Davis drew a walk to load the bags for Prince, who brought in De La Rosa with a single to left on a 1-2 offering. The Sounds were unable to do any further damage, however, stranding the bases full for the third time as the final two batters of the frame were retired.
In the bottom of the ninth, Heckathorn remained on the hill for Nashville and ran into trouble again. The RedHawks loaded the bases with no outs before the right-hander fanned Paredes and popped up Japhet Amador for the first two outs. Singleton followed with a two-run single to center that drew Oklahoma City to within 6-3.
Travis Webb was summoned from the Sounds' bullpen and the southpaw retired Marc Krauss, the potential tying run, on a first-pitch flyout to earn his first save of the year and the second save of his eight-year pro career.
The teams continue the series with another 7:05pm meeting on Tuesday. Left-hander Zach Kroenke (5-15, 4.67) will toe the slab for the Sounds and face a yet-to-be-determined Oklahoma City hurler.
Box Score
Nashville Sounds (53-84) 6, Oklahoma City RedHawks (78-59) 3
August 26th, 2013
1
2
3
4
5
6
7
8
9
R
H
E
Nashville Sounds
0
0
4
0
0
0
0
0
2
6
15
0
Oklahoma City RedHawks
0
0
0
1
0
0
0
0
2
3
10
0
BATTING
2B: Velez (9, Seaton), Morris, H (22, Seaton).
HR: Prince (11, 3rd inning off Seaton, 0 on, 0 out).
TB: Velez 4; Prince 5; Lalli 2; De La Rosa, A 4; Parker, S; Morris, H 3; Davis, Ke.
RBI: Prince 2 (52), Lalli (33), De La Rosa, A (20), Parker, S 2 (42).
Runners left in scoring position, 2 out: Lalli 2; Davis, Ke 3; Morris, H 2; Halton 2.
Team RISP: 6-for-21.
Team LOB: 16.BASERUNNING
SB: Prince 2 (24, 2nd base off Cruz, R/Perez, C, 3rd base off Cruz, R/Perez, C).
1-Ran for Laird in the 9th.
BATTING
2B: Martinez, Jo (17, Nelson), Perez, C (14, Heckathorn).
TB: Amador, Ja 2; Martinez, Jo 3; Krauss; Springer 2; Singleton 2; Perez, C 2.
RBI: Singleton 3 (30).
2-out RBI: Singleton 2.
Runners left in scoring position, 2 out: Laird; Perez, C; Crowe 6; Paredes; Krauss.
Team RISP: 2-for-16.
Team LOB: 14.BASERUNNING
SB: Springer (20, 2nd base off Nelson/De La Rosa, A).
WP: Leach, Ambriz.
HBP: Halton (by Seaton), Davis, B (by Seaton), Laird (by Heckathorn).
Pitches-strikes: Nelson 101-61, Leach 40-23, Heckathorn 30-17, Webb 1-1, Seaton 86-53, Cruz, R 21-12, Urckfitz 34-20, Ambriz 31-20.
Groundouts-flyouts: Nelson 3-2, Leach 0-0, Heckathorn 0-2, Webb 0-1, Seaton 5-4, Cruz, R 0-1, Urckfitz 3-1, Ambriz 1-0.
Batters faced: Nelson 23, Leach 9, Heckathorn 11, Webb 1, Seaton 26, Cruz, R 5, Urckfitz 10, Ambriz 8.
Inherited runners-scored: Webb 2-0, Cruz, R 3-0, Urckfitz 1-0.
Ejections: Oklahoma City RedHawks Manager Tony DeFrancesco ejected by HP umpire Brandon Misun (6th)
Umpires: HP: Brandon Misun. 1B: Spencer Flynn. 3B: Pat Hoberg.
Weather: 89 degrees, clear.
Wind: 10 mph, R to L.
T: 3:48.
Att: 3,374.
Venue: Chickasaw Bricktown Ballpark.
August 26, 2013