Clarksville, TN – On August 27th, 2013 at 12:14pm; Daniel Greer (33) of New Market, Alabama was leaving the parking lot at 2150 Lowes Drive and drove through two out buildings that were for sale on the lot, destroying both.
An off duty police officer from Kentucky observed and followed Mr. Greer providing 911 with their locations as officers responded to the area. Mr. Greer eventually drove back to the parking lot and was located by Officer Graham.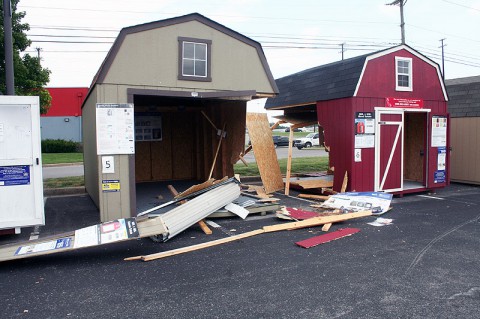 Mr. Greer was exiting Lowes Drive onto Forest Hills Drive when Officer Graham attempted a traffic stop. Mr. Greer's vehicle then accelerated and departed the right side of the roadway crashing through a fence and into a residence on Forest Hills Drive.
Officer Graham approached and found Mr. Greer inhaling from a can of dust-off. Mr. Greer, who was unrestrained, was later transferred from Gateway Medical Center to Vanderbilt University Medical Center for serious internal injuries.
No one else was injured in either crash. The crashes are under investigation and charges are pending.