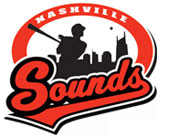 Oklahoma City, OK – The Nashville Sounds came up one run short in Tuesday night's contest at Chickasaw Bricktown Ballpark, losing 5-4 to the Oklahoma City RedHawks, who claimed the American Southern Division and a postseason berth as a result.
Down 4-1, the Sounds strung together a two-run two-out rally in the sixth inning courtesy of a triple from Nashville second baseman Eugenio Velez, 2-for-4.
Velez's extra-base knock extended his hit streak to 16 games, the longest by a Sounds batter this season, and scored Hainley Statia, 2-for-3, who dropped a ball just fair for a single to lead off the inning. Velez scored the second run of the inning on a passed ball charged to Carlos Perez to pull with one of Oklahoma City.
Trailing by two in the eighth inning, Velez produced another two-out RBI knock for Nashville to again pull within one of the RedHawks. Unfortunately for the Sounds, his single into right field that scored Statia marked the team's final run.
Sounds first baseman Hunter Morris put the team up 1-0 in the second inning with his 23rd home run of the season.
The Sounds have recorded a home run in each of their last seven games to match the club's longest stretch this season, previously occurring from July 3rd to 10th.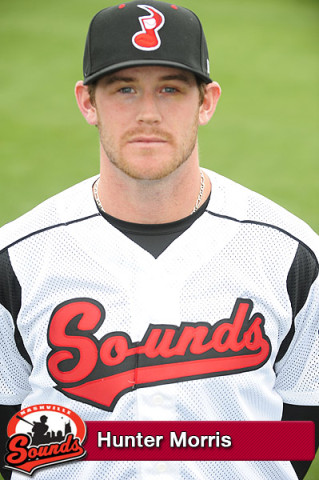 The RedHawks worked four of their runs off Sounds starting pitcher Zach Kroenke (5-16). Outfielder George Springer led off the third inning with a triple and was driven home by Brandon Laird's single. Kroenke surrendered another single in the frame before walking the bases loaded. He proceeded to deliver a bases-loaded walk to give Oklahoma City the go-ahead run.
A sacrifice fly from Marc Krauss in the fourth and Japhet Amador's RBI-single in the fifth put the RedHawks out to a 4-1 lead.
Oklahoma City's Jimmy Paredes singled in the seventh inning off of Sounds reliever Tim Dillard, who logged to innings out of the Nashville bullpen. Paredes stole second base, moved to third on a sacrifice bunt and scored on a chopped ground out towards third base for the RedHawks final run.
Travis Webb also pitched for Nashville, twirling a perfect sixth inning.
Oklahoma City's Eric Berger (6-3) picked up the win, holding Nashville to one run on two hits over five innings of work. Jorge De Leon notched the save, his sixth.
The Sounds will play their penultimate road game of the season Wednesday night against the Oklahoma City RedHawks at Chickasaw Bricktown Ballpark. Throwing for Nashville will be RHP Alfredo Figaro (0-0, 3.38) opposite Oklahoma City's RHP Asher Wojciechowski (9-6, 3.48).
Baseball returns to Greer Stadium on Friday, August 30th, for the team's final homestand of the season.
Box Score
Oklahoma City RedHawks (79-59) 5, Nashville Sounds (53-85) 4
August 27th, 2013
1
2
3
4
5
6
7
8
9
R
H
E
Nashville Sounds
0
1
0
0
0
2
0
1
0
4
6
0
Oklahoma City RedHawks
0
0
0
3
1
0
1
0
x
5
9
0
BATTING
2B: Statia (9, Stoffel).
3B: Velez (2, Cisnero).
HR: Morris, H (23, 2nd inning off Berger, 0 on, 1 out).
TB: Velez 4; Parker, S; Statia 3; Morris, H 4.
RBI: Morris, H (68), Velez 2 (17).
2-out RBI: Velez 2.
GIDP: Velez.
Team RISP: 1-for-3.
Team LOB: 3.FIELDING
Outfield assists: Halton (Springer at home).
DP: 2 (Parker, S-Velez-Morris, H, Prince-Velez-Morris, H).
BATTING
3B: Springer (4, Kroenke).
TB: Laird 2; Amador, Ja 3; Springer 4; Paredes; Perez, C.
RBI: Laird (78), Perez, C (32), Krauss (39), Amador, Ja (2), Springer (51).
2-out RBI: Amador, Ja.
Runners left in scoring position, 2 out: Singleton.
SF: Krauss.
GIDP: Perez, C, Lin.
Team RISP: 2-for-7.
Team LOB: 6.BASERUNNING
SB: Paredes (15, 2nd base off Dillard/De La Rosa, A).FIELDING
DP: (Laird-Martinez, Jo-Singleton).
Nashville Sounds
Player
IP
H
R
ER
BB
SO
HR
ERA
Zach Kroenke (L, 5-16)
5.0
7
4
4
5
0
0
4.77
Travis Webb
1.0
0
0
0
0
2
0
7.00
Tim Dillard
2.0
2
1
1
0
0
0
4.53
Totals
8.0
9
5
5
5
2
0
4.66
WP: Cisnero.
Pitches-strikes: Kroenke 97-55, Webb 12-7, Dillard 27-21, Berger 63-43, Cisnero 36-24, Stoffel 25-20, LeBlanc 3-2, De Leon 9-6.
Groundouts-flyouts: Kroenke 7-1, Webb 0-0, Dillard 4-2, Berger 7-1, Cisnero 0-1, Stoffel 3-0, LeBlanc 0-1, De Leon 0-1.
Batters faced: Kroenke 24, Webb 3, Dillard 8, Berger 17, Cisnero 6, Stoffel 8, LeBlanc 1, De Leon 2.
Umpires: HP: Spencer Flynn. 1B: Pat Hoberg. 3B: Brandon Misun.
Weather: 85 degrees, partly cloudy.
Wind: 11 mph, Out to LF.
T: 2:46.
Att: 3,587.
Venue: Chickasaw Bricktown Ballpark.
August 27, 2013