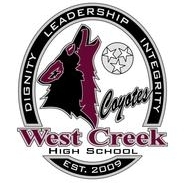 Clarksville, TN – It wasn't always pretty for West Creek High School's volleyball team, in their District 10-AAA match versus Kenwood High School August 26th, but the Lady Coyotes came away with a 3-0 (25-21, 25-18, 25-8) victory to remain undefeated in District 10-AAA.
West Creek (3-1, 3-0 District 10-AAA) trailed early on in both the first and second games, before rallying to take both against a scrappy Kenwood (0-3) squad.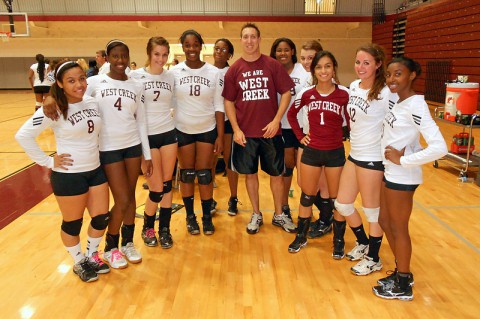 "We just didn't come out with a whole lot of energy in the first two games and it showed," West Creek coach Josh Stoeckl said. "It took our girls too long to get going tonight; it took us two sets motivated for some reason, I just don't know why."
In Game 1, the Lady Knights opened up the match scoring the first two points and were only down 7-6 to the Lady Coyotes before West Creek broke things open with a 7-0 run to go up 14-6 – highlighted by four aces by Alex Wilkens.
Overall, West Creek would record 14 aces against Kenwood – led by Shayla Smith's eight.
Smith would also lead the Lady Coyotes with eight kills, with Wilkens adding six – while Adrienne Stewart and Aliah McPhaul added five kills each.
Kenwood wouldn't go away without a fight, as the Lady Knights battled back to get as close as 23-21 with West Creek before the Lady Coyotes closed out the game with the final two points – including an ace by Kayla Ford on the final point.
Ford led the Lady Coyotes with 13 assists.
"Our passing wasn't very good early and we weren't smart with our attacks," Stoeckl said. "We were off a little bit and still trying to attack the way we would normally.
"Every time we had a chance to get going we took ourselves out of that situation to keep our momentum going in our favor."
Game 2 saw West Creek jump out quickly 4-1, but Kenwood followed by scoring 13 of the next 21 points to go up 14-12.
But like the first game, West Creek put together a run of six straight points to go back up 18-14 and never trailed again.
"We're a young team and we're trying to rebuild the program," first-year Kenwood coach Lynda Courtney said. "I thought the first two games we played right there with them, but it came down to simple mistakes.
"Sometimes we dwell too long on those mistakes, then we make another and we can't break that cycle. Once you start a slide like that you have to reach down and get that extra 10 percent to bring yourself back. That is something we have to keep working on."
The third and final game was over quickly, as the Lady Knights service receive struggled mightily, giving up six aces in the Lady Coyotes first 14 points, as West Creek got out to a 15-1 lead on their way to the 25-8 final-game score.
Next up for West Creek will be an August 27th home showdown with fellow undefeated District 10-AAA member Rossview High School, with an early lead in the standing going to the winner.
"We will have a tough opponent in Rossview and it will be a good litmus test to see where we really stack up," Stoeckl said. "If we're able compete well with them it will be good for us, but it's still early in the season and we need to be consistent."
Kenwood will host Clarksville High on August 27th.