Written by Marlon Scott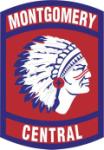 Clarksville, TN – The Montgomery Central High school Indians (0-2) proved to be the inferior tribe, losing their home opener to the Harpeth High Indians (1-1) 13-34.
Big plays by the MCHS Indians in the first half turned into turnovers, penalties and broken tackles in the second half. Harpeth took advantage of every mistake, scoring 21 unanswered points in the second half.
"We played really well in the first half," head coach Jeff Tomlinson said. "We played lethargic in the second half. I guess we got a little tired. A lot of the problem, second half-wise, we started having injuries."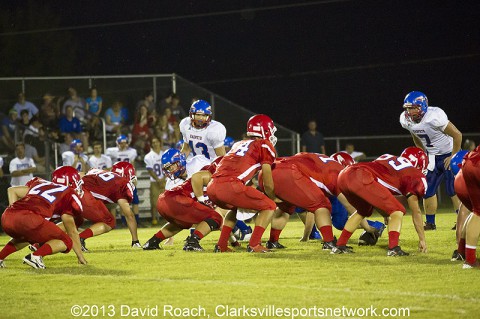 Harpeth attempted to convert every 4th down in the first half. Failure to convert, led to the MCHS Indians only two scores in the game.
The Indians scored on their first offensive play after stopping Harpeth on fourth down in their first drive. Indians quarterback, Peyton Delvendahl, tossed the ball to running back, Devin Prewitt who then threw a spiral to Nicholas Dennis for a 75-yard touchdown.
However, Harpeth had an immediate answer. Harpeth's Wes Beshbars took the ensuing kickoff 80 yards to tie the score 7-7.
In the 2nd quarter, Harpeth failed to convert 4th and 20 with eight minutes left in the half. Again, with one play, the MCHS Indians offense took over and scored. This time it was an inside handoff to Tyler Sneed. Sneed dashed 68 yards to the end zone. The Indians missed the extra point for a 13-7 lead.
Harpeth got help on their next 4th down conversion attempt. The Indians were hit with a pass interference penalty that set up a Harpeth 1st and goal. Three plays later Harpeth's Jason Fennel rushed three yards for the score. The Indians blocked the extra point attempt, leaving the score tied at halftime 13-13.
The second half was all Harpeth. The MCHS Indians committed three of there total four turnovers in the second half. In addition, all the fourth down attempts appeared to pay off, as the Indians defense looked tired, missing tackles and suffering injuries.
Harpeth's first offensive play in the second half, Fennell burst through the line of scrimmage, then spun and juked his way 75 yards for his second touchdown.
The Indians ensuing offensive drive ended with a fumble, setting up Harpeth with 1st and 10 on the Indians 34-yard line. It took seven plays for Harpeth to score again. Quarterback, Jett Brinkley dove one yard to make the score 27-13.
Harpeth's last score was a 45-yard touchdown pass with 11:48 left in the game.
After the game, Tomlinson told his team, "We need to pay attention to detail. We don't do a very good job of focusing on the little things."
Next the Indians play Camden Central at home, Friday, September 6th.