Written by Scott Samuels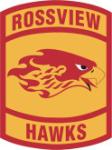 Clarksville, TN – The Rossview Hawks football team followed up last week's opening game win with a convincing victory over McGavock Friday night at Hawks field 48-34.
Led by quarterback Charles Talleyrand and running back Isaiah Johnson, the Hawks improved to 2-0 on the young season.
In the first quarter both teams started out slow with neither team having much success on offense.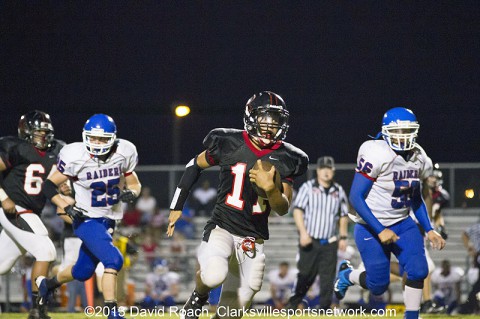 McGavock turned the ball over twice, the second on an interception by Rossview's David Ross at midfield. The Hawks took advantage of the good field position and on 3rd and 5 at McGavock's 25 Talleyrand scrambled away from pressure up the middle and found Christian Christianson at the goal line for a 25 yard touchdown strike. The Hawks led 7-0 at the end of the first quarter.
In the second quarter the two teams combined to score 41 points. Rossview's special teams opened the 2nd quarter by forcing a 2 yard punt from McGavock and quickly put points on the board with Tallyrand powering across the line from 2 yards out to make it 14-0 Rossview. McGavock answered with a 3 play 82 yard drive to get within 7 at 14-7, but then Rossview scored 20 straight points to take a commanding 34-7 lead with 3:06 left in the half. McGavock put together a 10 play 85 yard scoring drive with 13 seconds left to make the halftime score Rossview 34, McGavock 14.
Johnson ended the half with 120 yards rushing, 2 rushing td's and 1 receiving td.
In the 3rd quarter a 61 yard touchdown pass from Talleyrand to Dominic Stancescue put the Hawks up 41-14. Sloppy play and penalties plagued the Hawks for much of the quarter and Rossview's Bobby Lenor was ejected after an unsportsmanlike conduct penalty was called on him. McGavock put together 2 nice scoring drives to close the gap to 41-27 at the end of the 3rd quarter.
In the 4th quarter Talleyrand took one to the house going over the right side for 37 yards and a TD to put the Hawks seemingly in complete control 48-27 with 5:04 left in the game. But McGavock answered with a 9 play 80 yard drive to get within 14 at 48-34. Rossview then fumbled the ensuing kickoff giving McGavock the ball at Rossview's 18 yard line with just over 2 minutes left to play. Rossview's defense stiffened and held McGavock on 4th and one with 49 seconds left to secure the victory.
Talleyrand ended the night with 2 rushing TD's and 3 TD passes.
McGavock fell to 1-1 on the year. Rossview returns to action next Friday to face their cross-town rival Clarksville High.