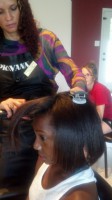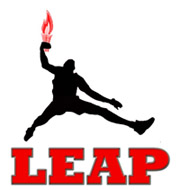 Clarksville, TN – August 25th, 2013 marked the initial Mentoring & Makeover Workshop at Leola's Salon for students enrolled in the LEAP Organization.
The workshop included free makeover and breakout sessions that discussed topics such as self-esteem, coping with peer pressure, leadership, relationships/dating, and health & beauty tips.
The central theme for the workshop was that it more important to be beautiful on the inside than on the outside.
"I enjoyed how Leola kept it real with the girls and explained that you don't have to sell yourself by over applying make up to their face to be beautiful and attract guys. She shared practical tips on how to accentuate their beauty naturally" commented Renita Garrett
When asked to comment on what prompted her to use her Salon to minister to youth, Leola shared, "Around a year ago, I saw myself teaching and telling young girls about who they are in Jesus Christ and how beautiful that they are.  It is amazing how God brought this ministry to Leola's Salon through Richard Garrett"
The group plans to meet monthly at Leola's Salon located at 3300 Greenspoint Drive Clarksville, TN 37042.
For more information Call Renita at 931.320.3054 or email renita@leaporg.net