Clarksville, TN – Austin Peay State University's volleyball team begins a three-week stretch where it will not leave the state of Tennessee, beginning with a four-match stay at the MT Invitational, Friday-Saturday, hosted by Middle Tennessee.
Austin Peay begins the tournament with a 10:00am, Friday contest against Virginia Tech followed by a 5:00pm affair against North Dakota. The tourney's second day will see Austin Peay open with a 10:00am, Saturday, match against Alabama-Birmingham before wrapping up the trip with a 3:00pm, Saturday contest against host Middle Tennessee.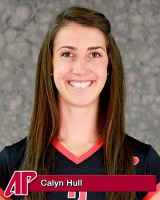 The Lady Govs opened the 2013 season last weekend at the four-match USF Invitational. They finished the tournament with a 1-3 record but were able to surprise Miami, which received votes in the AVCA preseason poll, with an opening-set victory and they were able to take a set away from host South Florida. Head coach Taylor Mott, whose focus has been the Lady Govs' improvement during the preseason, was pleased with her team's performance though she also saw room for improvement.
"We battled with consistency during the South Florida tournament," said Mott. "Especially on serve receive and defense which kept us from getting into our offense the way we would have liked. But when we were able to get into a flow I liked what I saw, we were aggressive offensively. The biggest thing I took away from the weekend was we didn't quit, we fought for every point. That's something that will help us as the season continues.
Senior outside hitter Jada Stotts stole the show in South Florida, recording 71 kills – an impressive 5.07 kills per set – in the four matches, earning all-tournament honors and being named the Ohio Valley Conference's co-Player of the Week. While she claimed the bulk of the limelight, senior outside hitter Calyn Hull stepped into a starting spot and posted 28 kills (2.00 per set) and senior middle blocker Lauren Henderson chipped in 26 kills (1.86 per set).
"When Jada is aggressive she is capable of impressive results like we saw last weekend," said Mott. "We need a little of her aggressiveness to wear off on the rest of the team. I felt we were letting the game come to us at times, but some of that is because we weren't in a good offensive flow consistently enough."
Three Questions with Jada Stotts
Scouting the Field
Virginia Tech (3-1) began its 2013 campaign at home, hosting the Hokie Invitational. The Hokies picked up three consecutive wins to start the campaign before falling to then No. 14 Michigan State in five sets. Senior outside hitter Samantha Gostling led Virginia Tech with 45 kills (3.75 per set) during the tournament. The Hokies offense wasn't a one-woman show as freshman outside hitter Lindsey Owens (37 kills) and junior middle blocker Kathryn Caine (35 kills) helped pace the offense.
North Dakota (1-2) begins a 10-match road trip with this weekend's action at Middle Tennessee. UND opened the season at home falling to then No. 15 Iowa State in three sets and falling to Texas A&M, which was receiving votes in the preseason poll, in four sets. North Dakota also boasts a balanced offensive attack after one week with junior outside hitter Lexi Robinson (30 kills), senior middle blocker Lisa Parlich (27) and senior middle blocker Ronni Munkeby (24) each sharing the offensive load equally.
UAB (4-1) is on the road for the first time this season after opening the season with a 3-1 record in the UAB/Samford tournament before posting a sweep of Samford, Wednesday. The Blazers own a four-set victory against OVC member Jacksonville State and their lone loss came to then No. 6 Minnesota. Senior setter Becca Howard was named the Conference USA Setter of the Week and enters this weekend averaging 11.62 assists per set while helping UAB to a .265 attack percentage.
Middle Tennessee (3-1) hosts a tournament for a second consecutive weekend. The Blue Raiders lone loss during last weekend's Blue Raider Bash came to North Carolina while they picked up a key win against Notre Dame – both teams that were receiving votes in the AVCA preseason poll. MTSU then picked up a Tuesday five-set victory at Southern Illinois. Sophomore outside hitter Chelsea Ross leads Middle Tennessee with 70 kills (4.12 per set) after the opening week of play. Sophomore middle blocker Rachel Shaughnessy is the reigning C-USA Defensive Player of the Week and has 23 blocks (1.35 per set) entering the weekend.
Series histories… Austin Peay will meet both Virginia Tech and North Dakota for the first time on the volleyball court… It will be the seventh meeting, but first since 1994, between APSU and UAB with the Lady Govs seeking their first win… Austin Peay and Middle Tennessee have met 54 times previously, the Lady Govs winning both ends of a home-and-home series last season and owning a 36-18 lead in the all-time series.
On the web… Live video via ipTV and live statistics for each match will be available at www.GoBlueRaiders.com/GameCentral courtesy the MT athletics department.