Murfreesboro, TN – With its leading offensive threat sidelined, Austin Peay State University's volleyball team saw senior Calyn Hull come to life with a career-high 25 kills and gutted out a five-set victory (26-24, 25-23, 26-28, 20-25, 15-6) victory against North Dakota in its second match at the MT Invitational, Friday, at Alumni Memorial Gymnasium.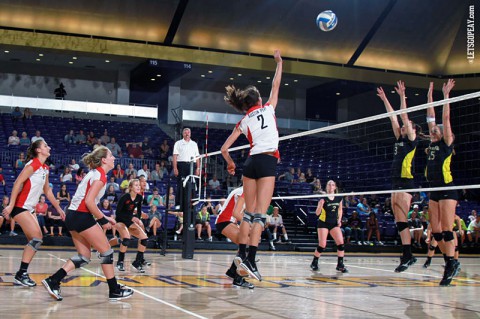 Austin Peay (2-4), which saw leading hitter Jada Stotts injured in the day's first match, had to battle back from an early 7-4 deficit in the opening set. The Lady Govs took the lead at 15-14 thanks to a 5-2 run that included kills by Samantha Strother, Sammie Ebright and Hillary Plybon. Austin Peay would not hold more than a two-point lead the rest of the way and needed back-to-back kills by Plybon and Lauren Henderson to secure the set in overtime, 26-24.
The Lady Govs jumped out to the early lead in the second set, building a 10-4 advantage thanks to good all-around play. North Dakota slowly reeled the Lady Govs back in, tying the set at 13-13. UND would get a two-point, 17-15, advantage but back-to-back kills by Henderson wiped out that advantage. Austin Peay scored four of the set's final five points to win 25-23.
North Dakota (1-4) and Austin Peay fought through a see-saw affair in the third set with each team leading by three points at one point. UND led 7-4 early only to see APSU gain a 18-15 edge late. North Dakota used a 9-5 run from there to get its first set point opportunity. Austin Peay thwarted the first set point and got its first match-point chance with two consecutive points. UND staved off the match point and scored four of the final six points to secure a 28-26 victory.
UND controlled the fourth set, winning in wire-to-wire fashion. North Dakota scored the set's first three points and slowly pushed its lead to five and then seven points, 18-11, and did not look back to tie the match with a 25-20 victory.
Austin Peay returned the favor in the fifth set, leading wire-to-wire. The Lady Govs scored the set's first seven points, including three points off UND errors. Austin Peay would bend as UND closed within four points at 10-6 but the Lady Govs did not break as they scored the set's final four points to secure the match with a 15-6 win.
"I'm proud of this team," said Lady Govs head coach Taylor Mott. "We've overcome a lot just in today's action alone. Calyn stepped up in this match but we got contributions from everyone we put on the court. We played Austin Peay volleyball throughout, which wasn't pretty but it was effective. Now we have to get ready for two more tough matches tomorrow."
Hull posted her 25 kills on 65 attempts, finishing the match with a .246 attack percentage. Junior setter Cami Fields enjoyed her finest outing this season with 56 assists and a pair of kills. Plybon (14 kills), Henderson (11) and Ebright (10) also reached double-digit kills territory.
Austin Peay's offense posted 71 kills and a .280 attack percentage in the victory. The Lady Govs defense posted just 68 digs but recorded eight blocks, including four by Plybon.
Lexi Robinson led North Dakota with 20 kills. Lisa Parlich added 16 kills and a team-best .433 attack percentage. Anna Pioske came off the bench and chipped in 16 kills.
Austin Peay continues its stay at the MT Invitational with a 10:00am, Saturday contest against UAB.
Box Score
North Dakota vs Austin Peay
(September 6th, 2013 at Murfreesboro, TN)
North Dakota
ATTACK
SET
SERVE
SRV
DEF
BLOCK
GEN
##
Player
SP
K
E
TA
PCT
A
SA
SE
RE
DIG
BS
BA
BE
BHE
Points

2

THOMPSON, Emily

5

4

3

13

.077

0

0

0

0

3

0

3

0

0

5.5

8

HUSFELDT, Nikki

3

0

1

1

-1.000

29

1

2

0

3

0

2

0

0

2.0

9

ROBINSON, Lexi

5

20

5

49

.306

2

0

1

0

13

0

1

1

0

20.5

12

ASCHE, Emily

2

3

1

10

.200

0

0

0

1

2

0

0

1

0

3.0

16

MUNKEBY, Ronni

5

6

4

22

.091

1

1

1

0

1

0

6

0

0

10.0

19

PARLICH, Lisa

5

16

3

30

.433

0

0

0

1

2

0

4

2

0

18.0

3

KRUEGER, Ellen

4

2

2

7

.000

28

0

0

0

5

0

1

0

1

2.5

5

PIOSKE, Anna

4

16

4

36

.333

0

0

3

0

3

0

2

0

0

17.0

6

CLARKE, Lauren

5

0

0

1

.000

3

2

1

1

18

0

0

0

0

2.0

10

YAGER, Candice

4

0

0

1

.000

0

0

1

1

7

0

0

0

0

0.0

11

MOSER, Chelsea

1

0

0

0

.000

0

0

0

0

0

0

1

0

0

0.5

21

HART, McKenzie

3

0

0

0

.000

0

0

2

1

5

0

0

0

0

0.0

Totals

5

67

23

170

.259

63

4

11

5

62

0

20

4

1

81.0

TOTAL TEAM BLOCKS: 10.0
TEAM ATTACK BY SET
Set
K
E
TA
Pct
Sideout
Pct

1

16

4

36

.333

17-25

68%

2

16

3

33

.394

11-25

43%

3

17

4

47

.277

17-26

65%

4

15

6

35

.257

14-21

66%

5

3

6

19

-.158

4-14

28%

63-111

56%

SET SCORES
1
2
3
4
5
TEAM RECORDS

North Dakota

(2)

24

23

28

25

6

1-4

Austin Peay

(3)

26

25

26

20

15

2-4
Austin Peay
ATTACK
SET
SERVE
SRV
DEF
BLOCK
GEN
##
Player
SP
K
E
TA
PCT
A
SA
SE
RE
DIG
BS
BA
BE
BHE
Points

1

FIELDS, Cami

5

2

0

3

.667

56

0

0

0

8

0

0

1

2

2.0

2

HULL, Calyn

5

25

9

65

.246

1

2

0

0

13

1

0

1

0

28.0

4

EBRIGHT, Sammie

5

10

5

29

.172

0

0

1

0

14

0

3

2

0

11.5

10

STROTHER, Samantha

5

9

2

23

.304

2

0

0

1

1

0

1

0

1

9.5

12

HENDERSON, Lauren

5

11

3

17

.471

2

2

4

0

4

2

1

0

0

15.5

15

PLYBON, Hillary

5

14

5

30

.300

2

0

0

0

1

1

3

0

0

16.5

3

ADAMS, April

1

0

0

0

.000

0

0

0

1

0

0

0

0

0

0.0

5

BALES, Lizzy

5

0

0

0

.000

0

0

1

1

13

0

0

0

0

0.0

13

LITCHFIELD, Syd

5

0

0

1

.000

2

1

1

1

14

0

0

0

0

1.0

Totals

5

71

24

168

.280

65

5

7

4

68

4

8

4

3

84.0

TOTAL TEAM BLOCKS: 8.0
TEAM ATTACK BY SET
Set
K
E
TA
Pct
Sideout
Pct

1

18

4

41

.341

18-25

72%

2

18

4

38

.368

11-23

47%

3

19

7

47

.255

17-28

60%

4

9

6

27

.111

13-24

54%

5

7

3

15

.267

5-7

71%

64-107

59%

Site: Murfreesboro, Tenn. (Alumni Memorial Gym)
Date: Sep 06, 2013 Attend: 117 Time: 2:07
Referees: James Kirkpatrick, Mic Huffman


| | | | | | | |
| --- | --- | --- | --- | --- | --- | --- |
| | 1 | 2 | 3 | 4 | 5 | Total |
| Tie scores | 14 | 8 | 13 | 0 | 0 | 35 |
| Lead changes | 3 | 5 | 7 | 0 | 0 | 15 |