Murfreesboro, TN – Austin Peay State University's volleyball team rallied from a two-set deficit but fell in five-sets (21-25, 16-25, 25-18, 25-18, 15-10) at Middle Tennessee, Saturday, in its final match of the MT Invitational.
Austin Peay (2-6) got off to a slow start in the opening set and trailed by seven points, 17-10, as Middle Tennessee's offense did not commit an error in that opening stretch.
The Lady Govs slowly reeled the match back in and used a six-point run to cut the deficit to one point, 22-21. However, they could not tie the set and the Blue Raiders scored the final three points to secure the win, 25-21.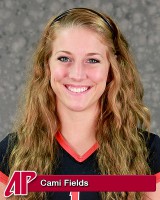 Middle Tennessee (4-2) slowly took control in the second set, overcoming an initial Austin Peay lead to build a 14-10 advantage. The Blue Raiders finished the set with an 11-6 run that saw the Lady Govs record just one kill to post the 25-16 win.
Middle Tennessee looked poised to run away with the third set, leading 9-7 after a five-point run. Austin Peay was hitting "negative" with more errors (4) than kills (2) at that point. However, the Lady Govs recovered offensively with nine kills in their final 14 swings. Cami Fields tacked on back-to-back service aces for a 17-12 advantage that cemented the lead and Austin Peay rolled to the 25-18 victory.
Austin Peay carried the magic into the fourth set, jumping out to a 12-4 lead thanks to eight kills. The Lady Govs pushed the lead to 10 points, 20-10, after a Samantha Strother kill. Middle Tennessee would chip away at the lead late; closing to within six points twice, but could not erase the deficit before Austin Peay won 25-18.
Middle Tennessee took advantage of a trio of Austin Peay errors early in the fifth set, taking a 3-1 lead. Austin Peay could not close that gap and surrendered a 4-1 run that saw MTSU's lead grow to 11-6. The Blue Raiders would not surrender that lead and won the match with a 15-10 set win.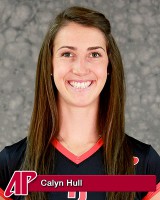 "I'm proud of the way the team fought back against Middle Tennessee," said Lady Govs head coach Taylor Mott. "We didn't play well defensively in the first two sets but made the adjustment at the break. Our offense showed more life in the third and fourth sets as well. We weren't able to maintain the momentum in the fifth set. Overall, I believe we made some big progress this weekend."
Senior Calyn Hull led the Lady Govs with a 19-kill performance, posting a .359 attack percentage. Senior Lauren Henderson chipped in 12 kills at a .450 clip while freshman Samantha Strother and junior Hillary Plybon each added nine kills.
Jale Hervey led Middle Tennessee with 15 kills and a .400 attack percentage. Chelsea Ross added 14 kills.
Austin Peay will return to action when it meets Tennessee in the opening match of the Comcast Lady Vol Classic, Thursday.
Box Score
Austin Peay vs Middle Tennessee
(September 7th, 2013 at Murfreesboro, TN)
Austin Peay
ATTACK
SET
SERVE
SRV
DEF
BLOCK
GEN
##
Player
SP
K
E
TA
PCT
A
SA
SE
RE
DIG
BS
BA
BE
BHE
Points

1

FIELDS, Cami

5

1

0

1

1.000

36

2

0

0

13

0

1

0

7

3.5

2

HULL, Calyn

5

19

5

39

.359

0

0

2

2

9

0

0

0

0

19.0

4

EBRIGHT, Sammie

5

6

6

26

.000

2

0

0

0

2

0

1

1

0

6.5

10

STROTHER, Samantha

5

9

5

27

.148

0

0

0

0

6

0

1

0

0

9.5

12

HENDERSON, Lauren

5

12

3

20

.450

2

0

2

1

3

0

2

0

0

13.0

15

PLYBON, Hillary

5

9

3

16

.375

0

0

0

0

2

2

1

0

1

11.5

3

ADAMS, April

5

0

0

0

.000

2

0

0

1

4

0

0

0

0

0.0

5

BALES, Lizzy

5

0

0

0

.000

0

1

1

1

3

0

0

0

0

1.0

7

MARSELLIS, Aubrey

3

0

1

1

-1.000

8

0

0

0

0

0

0

0

0

0.0

13

LITCHFIELD, Syd

4

0

1

1

-1.000

1

0

0

3

4

0

0

0

0

0.0

Totals

5

56

24

131

.244

51

3

5

8

46

2

6

1

8

64.0

TOTAL TEAM BLOCKS: 5.0
TEAM ATTACK BY SET
Set
K
E
TA
Pct
Sideout
Pct

1

14

7

30

.233

13-25

51%

2

9

5

25

.160

10-24

41%

3

11

4

27

.259

11-19

57%

4

15

5

31

.323

11-18

61%

5

7

3

18

.222

9-15

60%

54-101

53%

SET SCORES
1
2
3
4
5
TEAM RECORDS

Austin Peay

(2)

21

16

25

25

10

2-6

Middle Tennessee

(3)

25

25

18

18

15

4-2
Middle Tennessee
ATTACK
SET
SERVE
SRV
DEF
BLOCK
GEN
##
Player
SP
K
E
TA
PCT
A
SA
SE
RE
DIG
BS
BA
BE
BHE
Points

5

DE FREITAS, Ailime

5

0

0

0

.000

27

2

1

0

6

0

0

2

1

2.0

7

HERVEY, Jale

5

15

3

30

.400

0

0

0

0

1

0

3

0

0

16.5

10

ROSS, Chelsea

5

14

8

46

.130

2

1

4

3

13

0

2

0

0

16.0

16

MARSHALL, Monet

5

7

4

22

.136

0

0

0

0

1

1

1

0

0

8.5

21

SHAUGHNESSY, Rachel

5

2

2

9

.000

1

0

0

0

1

1

6

0

0

6.0

23

RICHARDSON, Tyler

5

9

2

15

.467

0

1

1

0

0

0

4

0

0

12.0

1

ANDERTON, Shelby

5

2

0

3

.667

20

1

0

0

2

0

0

1

2

3.0

2

HOWARD, Kendall

5

0

0

0

.000

3

2

3

0

17

0

0

0

0

2.0

12

HEADRICK, Kristina

5

0

0

0

.000

0

1

3

0

4

0

0

0

0

1.0

14

JOHNSON, Jazmyne

5

6

4

12

.167

0

0

0

0

1

0

4

2

0

8.0

20

SHADE, Miri

1

0

0

0

.000

0

0

0

0

1

0

0

0

0

0.0

Totals

5

55

23

137

.234

53

8

12

3

47

2

20

5

3

75.0

TOTAL TEAM BLOCKS: 12.0
TEAM ATTACK BY SET
Set
K
E
TA
Pct
Sideout
Pct

1

14

5

26

.346

13-21

61%

2

10

3

24

.292

11-17

64%

3

12

7

34

.147

10-24

41%

4

10

6

33

.121

11-25

43%

5

9

2

20

.350

9-10

89%

54-97

55%

Site: Murfreesboro, Tenn. (Alumni Memorial Gym)
Date: Sep 07, 2013 Attend: 483 Time: 1:58
Referees: Mic Huffman, James Kirkpatrick


| | | | | | | |
| --- | --- | --- | --- | --- | --- | --- |
| | 1 | 2 | 3 | 4 | 5 | Total |
| Tie scores | 2 | 3 | 4 | 1 | 1 | 11 |
| Lead changes | 1 | 1 | 4 | 0 | 1 | 7 |