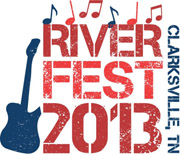 Clarksville, TN – The first day of the 2013 Riverfest Festival kicked off with absolutely glorious weather. The sky was clear, and the temperatures while warm were not excessive. Festival Attendence started out a little slow but grew steadily throughout the evening culminating in the concerts by Tina Brown, Backroad Brigade and, Skynyrd Lynard on the Miller Lite stage; and Sidewalk Prophets on the First Baptist Church stage.
The festival gets bigger and better every year, and this year is no exception. On Saturday Riverfest will kickoff with the Riverfest Regatta, with the second day of the festival officially opening shortly thereafter and running until 11:00pm. Among the attractions for Saturday are the recycled fashion show various displays by area dance studios, clubs, martial arts schools, and live musical entertainment all day long.
Johnny T will perform on the Gateway Realty Stage at 9:30pm Saturday. Country recording artist Phil Vassar will take the stage at 9:00pm as the headlining performer on the Miller Stage on Saturday.All concerts are free and open to the public.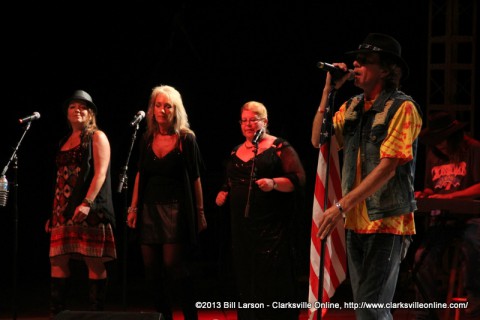 For the complete schedule of activities continue reading below.
Photo Gallery
Images from Day 1 of the 2013 Riverfest Festival
Adventure Zone
The Adventure Zone welcomes children to the festival with special fun-filled activities, just for them!
Location
North Extension of McGregor Park's RiverWalk. (Behind O'Charleys)
Hours
Saturday, September 7th, from 10:00am to 9:00pm.
Ages
Open to youth ages 6 and up.
Cost
Armbands can be purchased for $10.00. They are good for single day or both days. If returning for day two, the original armband that was purchased on day one must be worn or a new one must be purchased. No replacements will be given.
Features
Pony Rides – cost is 2 tickets/ride; $1.00=1 ticket
Inflatables
A Mechanical Bull
Rock Climbing Wall – arm band
Motorized remote cars – cost is 2 tickets/ride; $1.00=1 ticket
Roaming magician, Russ Nowack – Saturday from 3:30pm-6:30pm
501st Legion – Saturday 10:00am-9:00pm
Face painting provided by Tabernacle Church
Nashville Zoo's Wildlife on Wheels Program
Quick Fit Challenge
In this multi-station challenge, participants complete a physical and educational health/fitness task for a chance to win prizes.
Location
Challenges are located at the following booths throughout the festival.
Body Density Scan
Air Squats/Burpees
Nutrition Quiz
Flexibility Exercise
Recycled Fashion Show
Riverfest is proud to offer the 2nd Annual Recycled Fashion Show. This free event is intended to educate the general public about recycling in a fun and interactive environment. Students and adults of all ages are invited to show their created fashions made from recycled materials.
Where/When
Saturday, September 7th, 2013 at 4:00pm at McGregor Park, Green Zone
Judging Categories
All contestants will be judged according to the following areas:
Use of Materials
Creativity
Overall Look
Awards
Only one overall winner will be awarded, but a first, second, and third place winner will be awarded in both divisions.
1st place: $75.00
2nd place: $50.00
3rd place: $25.00
Overall most creative design (from all entries): $100
River of Culture
Experience music, dance and stories from all across the globe in our River of Culture. The River of Culture area will be a community of diverse entertainment and educational experiences.
Participating cultural groups will be sharing the history and the development of their varied cultures through interactive booths. Among the many cultural groups to showcase their way of life will be Brazil, France, Japan, Latin, Panama and Hawaii.
Some groups will also be entertaining festival guests with exciting dances, musical performances, and story telling from their own culture.
Location
North Extension of McGregor Park's RiverWalk. (Behind O'Charleys)
Hours

Saturday, September 7th, from 10:00am to 8:00pm.
Riverfest Regatta
This year marks the 7th year for the annual Riverfest Regatta, where participants build their own boats using materials from a specified list, and race them on the Cumberland River. The heats are timed with the fastest time being declared the winner in the respective classes. The course is 100 yards long.
Where/When
Saturday, September 7th, 2013 at 10:00am (Check in begins at 9:00am) at McGregor Park Boat Ramp
Divisions

Adult Open
Youth w/ Adult (Parent or guardian must accompany participants 12-17 years of age in boat.
Business & Industry
Church/Civic Organization
The Competition
Boats will run heats. Each division will be run separately with the quickest time being declared the winner.
Awards
All boats/teams will be pre-judged prior to the racing competition. All awards will be announced and presented at the conclusion of the regatta.
Ship Shape Award: most creative boat design
"Cardboard Queen" Award: the prettiest boat in the regatta
Team unity Award: most spirited and most organized team (Looks don't matter here!)
Team Attire Award: most creative team costumes
The Titanic Award: awarded to the most spectacular sinking of your vessel, all components of your boat must be recovered to qualify.
PLUS: First, second, and third place in all Divisions if your boat makes it across the finish line!!
Toddler Town
A free covered area, where young children can enjoy activities like play-doh, finger paint, smaller inflatables and more- all suited to their size and age. Area features seating for parents, a private diaper changing area, and stroller parking.

Location
North Extension of McGregor Park's RiverWalk. (Behind O'Charleys)
Hours
Saturday, September 7th, from 10:00am to 9:00pm.
Ages
Open to children ages 5 and under.
Tour d'Art
Artists of all ages are encouraged to enter their art in the Riverfest Tour d'Art exhibit for it to be featured at various locations in downtown Clarksville then judged for a chance to win cash and prizes!
Divisions
The Tour d'Art art exhibit features three divisions:
Art Exhibits

High School
September 7th from 10:00am to 5:00pm at the Customs House Museum
Amateur/Professional
September 7th from 10:00am to 5:00pm at the Smith-Trahern Mansion
Senior
September 7th from noon to 5:00pm at the Downtown Artists Co-Op
Miller Lite Stage
Gateway Reality Stage
Saturday, September 7th
10:00am
STARS Dance Studio
10:30am
Gateways Cast & Crowns
11:00am
Distinguished Steppers
11:30am
Natalie's Dance Network
12:00pm
Acro Dance Express
12:30pm
Kenwood Dance Team
1:00pm
Lana's Dance Centre
1:30pm
The Dance Force
2:00pm
Red River Ramblers
2:30pm
Dominique Dy
3:35pm
Tae'Shaona Matthews
4:10pm
Marshall Dowdy
4:45pm
Daymar Step Demo
6:20pm
Clint Fisher
6:55pm
Mira
7:30pm
Steven Hawkins
8:00pm
Skylar Cain
845pm
Five Minus One Entertainment
9:30pm
Johnny T
River of Culture Stage
Saturday, September 7th
1:30pm
Natalie's Dance Network
2:00pm
Kreigisch Martial Arts LLC
2:30pm
The Ladies of Lada, Troupe Thalia
3:30pm
Filipino-American International Association
4:00pm
Recycled Fashion Show
5:00pm
Zumba hosted by the Clarksville YMCA
5:30pm
Hui Hawaii O Tenesi Hawaiian Civic Club
6:00pm
Harris Holt Martial Arts School
7:00pm
Folklorico Viva Panama
About Riverfest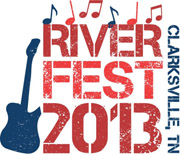 Riverfest is an annual two-day music and arts festival held in Clarksville, Tennessee along the banks of the Cumberland River. This free event features delicious food, activities for kids of all ages and multiple stages of live entertainment. Other fun activities include the Riverfest Regatta, Lighted Boat Parade, Recycled Fashion Show and much more!
Admission to Riverfest is completely free! It's hard to beat two nights of free concerts with dozens of local, regional and national performers. Tickets and wristbands may be purchased for food, beverages and inflatables.
For more information about the Riverfest Festival visit, www.clarksvilleriverfest.com.