Knoxville, TN – Austin Peay State University's volleyball team was unable to build on a first-set comeback and fell in four sets (27-25, 12-25, 20-25, 22-25) to East Tennessee in Friday action at the Comcast Lady Vol Classic.

After battling offensive inconsistency in the day's first match, it was a lack of defense that cost Austin Peay against East Tennessee. The Lady Govs offense was efficient with 43 kills and a .242 attack percentage, committing only 13 errors in four sets. Yet, East Tennessee had few problems with a 74-kill performance that saw them commit only 19 errors in posting a .407 attack percentage.

"It seemed we sorted out our problems on offense," said Lady Govs head coach Taylor Mott. "I thought we showed improvement again on the offensive side of the ball. However, we are still searching for an answer on defense. There wasn't a lot we did to slow East Tennessee down ."
After battling in close quarters through the first two-thirds of the opening set, Austin Peay (2-7) stared down a set point against at 24-22. The Lady Govs responded in fine fashion, scoring five of the final six points to rally for the 27-25 victory. Junior Hillary Plybon had a big hand in the comeback, scoring a kill and assisting on a block during the rally.
The second set promised more closely fought action. However, East Tennessee (5-6) dispelled any chance of an APSU come back with a 9-0 run to grab a 16-8 lead. The Lady Govs suffered through an offensive drought that saw them score just one kill in a 17-point span, sophomore Aubrey Marsellis breaking the drought but APSU trailing 17-10. Another 4-0 run by ETSU put the set out of reach as the Buccaneers leveled the set with a 25-12 victory.
East Tennessee built a large lead nearly out of the gate in the third set, scoring the first three points en route to a 9-3 lead. Austin Peay scored back-to-back points just twice in the set's first 29 points, but used a 3-0 run on junior Liz Landon's serve and a 4-0 run on freshman Syd Litchfield's serve to trim its deficit to four points, 21-17. ETSU would not allow them to get closer and won the set 25-20.
Austin Peay appeared poised to level the match and force a fifth set, thanks largely to senior Lauren Henderson's serve. The Lady Govs scored five straight points with Henderson on serve, pushing out to a 10-5 advantage. However, ETSU reeled APSU in slowly, using a 4-0 run later to tie the set, 18-18. The Buccaneers took control with a 4-1 run for a 23-21 lead and clinched the match with a 25-22 victory.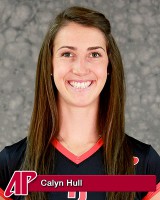 Hull led the Lady Govs with 14 kills, but was held to a .205 attack percentage. Senior Lauren Henderson and junior Hillary Plybon, Austin Peay's middle blockers, combined for 17 kills. Henderson was particularly effective behind the service line with three aces and helped APSU build impressive scoring bursts in the first and fourth sets.
Bethany Gesell (19 kills), Megan Devine (18) and Ivey Rice (17) did the bulk of offensive damage for East Tennessee. Gesell also posted an efficient .552 attack percentage, with only three attack errors.
Austin Peay concludes its stay in Knoxville with a 3:30pm (CT), Saturday contest against Wichita State.
Box Score
ETSU vs Austin Peay
(September 13th, 2013 at Knoxville, TN)
ETSU
ATTACK
SET
SERVE
SRV
DEF
BLOCK
GEN
##
Player
SP
K
E
TA
PCT
A
SA
SE
RE
DIG
BS
BA
BE
BHE
Points

1

RUTLEDGE, Jamie

4

3

0

3

1.000

59

0

2

0

8

0

4

0

1

5.0

3

DEVINE, Megan

4

18

5

34

.382

0

1

1

0

9

0

1

0

0

19.5

5

WILEY, Khadijah

4

5

2

10

.300

0

0

0

0

0

0

3

1

0

6.5

7

GESELL, Bethany

4

19

3

29

.552

1

0

2

0

3

0

0

0

0

19.0

9

HARDY, Meredith

4

9

4

22

.227

0

1

3

0

2

0

4

3

0

12.0

10

RICE, Ivey

4

17

4

32

.406

1

0

2

0

10

0

2

0

0

18.0

4

ALLMON, Briana

1

2

1

4

.250

0

0

1

0

2

0

0

0

0

2.0

8

RICE, Renzey

4

0

0

0

.000

1

0

0

1

4

0

0

0

0

0.0

12

MUEY, Katie

4

1

0

1

1.000

4

4

2

1

18

0

0

0

0

5.0

TEAM

3

Totals

4

74

19

135

.407

66

6

13

5

56

0

14

4

1

87.0

TOTAL TEAM BLOCKS: 7.0
TEAM ATTACK BY SET
Set
K
E
TA
Pct
Sideout
Pct

1

18

8

36

.278

16-26

61%

2

15

4

28

.393

9-13

69%

3

20

3

34

.500

13-20

64%

4

21

4

37

.459

16-23

69%

54-82

65%

SET SCORES
1
2
3
4
TEAM RECORDS

ETSU

(3)

25

25

25

25

6-5

Austin Peay

(1)

27

12

20

22

2-9
Austin Peay
ATTACK
SET
SERVE
SRV
DEF
BLOCK
GEN
##
Player
SP
K
E
TA
PCT
A
SA
SE
RE
DIG
BS
BA
BE
BHE
Points

1

FIELDS, Cami

4

1

1

3

.000

34

0

0

0

4

0

2

0

2

2.0

2

HULL, Calyn

4

14

6

39

.205

1

1

1

3

7

0

1

0

0

15.5

4

EBRIGHT, Sammie

1

0

0

2

.000

0

0

0

0

2

0

0

0

0

0.0

12

HENDERSON, Lauren

4

8

1

14

.500

1

3

2

0

4

0

2

2

0

12.0

13

LITCHFIELD, Syd

4

0

0

0

.000

1

0

1

2

4

0

0

0

0

0.0

15

PLYBON, Hillary

4

9

3

24

.250

0

1

0

0

1

0

2

0

0

11.0

3

ADAMS, April

4

0

0

0

.000

0

0

0

0

8

0

0

0

0

0.0

7

MARSELLIS, Aubrey

4

7

2

18

.278

2

0

0

0

1

0

0

2

0

7.0

8

LANDON, Liz

4

0

0

1

.000

0

0

0

0

4

0

0

0

0

0.0

10

STROTHER, Samantha

4

4

0

23

.174

0

0

0

0

4

0

1

0

0

4.5

TEAM

1

Totals

4

43

13

124

.242

39

5

4

6

39

0

8

4

2

52.0

TOTAL TEAM BLOCKS: 4.0
TEAM ATTACK BY SET
Set
K
E
TA
Pct
Sideout
Pct

1

11

4

36

.194

17-26

65%

2

5

6

20

-.050

8-24

33%

3

14

2

33

.364

13-25

51%

4

13

1

35

.343

15-24

62%

53-99

53%

Site: Knoxville, Tenn. (Thompson-Boling)
Date: Sep 13, 2013 Attend: Time: 1:45
Referees: Wade Brence, Glenn Sapp


| | | | | | |
| --- | --- | --- | --- | --- | --- |
| | 1 | 2 | 3 | 4 | Total |
| Tie scores | 12 | 7 | 0 | 9 | 28 |
| Lead changes | 4 | 4 | 0 | 4 | 12 |
Sections
Sports
Topics
APSU, APSU Athletics, APSU Lady Govs, APSU Sports, APSU Volleyball, Aubrey Marsellis, Austin Peay State University, Comcast Lady Vol Classic, East Tennessee, ETSU, Hillary Plybon, Kills, Knoxville, Knoxville TN, Lady Govs, Lauren Henderson, Liz Landon, Megan Devine, Ohio Valley Conference, OVC, Syd LItchfield, Taylor Mott, Tennessee, volleyball, Wichita State