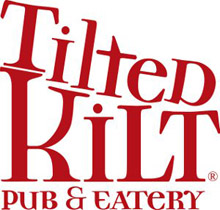 Clarksville, TN – Tilted Kilt Pub and Eatery in Clarksville announces the addition of it's new Video Wall to the pub's amenities.
The Video Wall consists of nine LED flat screen televisions with full HD, layered 3×3 for a total viewing area of 170″.  The wall has multiple configurations to include placing each of the nine tvs on different individual channels, or the entire nine tvs on one channel for 170″ viewing area.
"The Video Wall is the ultimate viewing experience for any type of sporting event and the closest thing to actually being there," said Jamie Daniel, owner.  "We got it operational just in time for Thursday night football this week, and it was so bright and sharp, our managers and customers remarked it was almost as if they were right there on the playing field."
The Video Wall will also be utilized for the Mayweather vs Canelo fight this Saturday night, at 8:00pm.  The public is invited  to enjoy the fight at the Tilted Kilt.
Tilted Kilt Pub & Eatery is located at 2790B Wilma Rudolph Boulevard in Clarksville, TN.
For more information, visit www.tiltedkiltclarksville.com, or www.facebook.com/tiltedkiltclarksville.