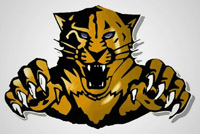 Nashville, TN – Clarksville Academy's girls golf team had no problem repeating as District 10-A tournament champions, September 16th at the Ted Rhoades Golf Course, as Anna Michelle Moore and Bailey Foote posted the two lowest scores in the Lady Cougars winning by 46 shots over runner-up Lipscomb Academy.
On the boys side, Clarksville Academy team finished sixth, but freshman Austin Cherry will advance to next week's regional tournament as one of the five low individual qualifiers.
Moore, a senior, was the tournaments low medalist — despite a slow start — firing a seven-over 79.
"The day didn't start off really well," Moore said. "My driver was acting up and I wasn't able to sink any putts on the first six or seven holes and was six or seven over after eight holes.
"But I was able to come back and maintain, get pars, and finished with a 79. I guess I ended up doing decent on the round, but I wasn't pleased with how I did."
Foote, a sophomore, finished one stroke back with an eight-over round of 80 to finish second – nine shots better than third-place finisher Maryalice Armstrong from Lipscomb Academy.
"For the girls to repeat as district champions is something pretty special," Clarksville Academy coach Jake Peterson said. "Coming into a new district alignment, not really being familiar with the teams this year in the district and rising up to the challenge by competing on a course that they've really never played on before."
The Lady Cougars will be joined by Lipscomb Academy and Hume Fogg in next week's Region 5-A tournament on September 23rd, at Champions Run Golf Course (in Rockvale, TN), along with the three top finishers out of District 9-A.
"Last year both girls made it to the state tournament as individuals after just missing making it as a team," Peterson said. "I think if they can put together another good round like this they will have the opportunity to go as a team, which will be really special to have a shot at winning the team title."
Both Lady Cougars have state tournament experience, with Moore having gone her first three years in high school and Foote last year as a freshman.
Moore tied for sixth place last year as a junior and seventh as a sophomore for Clarksville Academy and was 31st her freshman year, going to the AAA state tournament with Rossview High School.
"I've got a lot of practicing to do, hitting range balls, chipping and putting to get my game to where I need to be next week," Moore said. "I just don't want to qualify this year; I really want to win everything, that's my dream right now. I just have to work to make that happen."
For the Cougars, Cherry – who is a freshman – will be the only Clarksville Academy boys team member to advance to the region tournament after finishing as an individual qualifier.
"I was really proud of Austin," Peterson said. "Coming in and shooting a round of 84 today as a freshman having never really being in this kind of situation before, he really rose up to the challenge.
"I'm excited to see him move on and go to the regions as a freshman and getting him into that type of environment and continue to learn and grow as we go along."
Girls Team Scores
(Top three teams advance to region tournament)
Clarksville Academy 159, Lipscomb Academy 205, Hume Fogg 220, East Robertson 229, Jo Byrns 231, Houston County 261
Girls Individual Scores
Clarksville Academy: AnnaMichelle Moore 79, Bailey Foote 80
Lipscomb Academy: Maryalice Armstrong 89, Carley Mitchell 116
Hume Fogg: Reagan Castell 105, Isabella Ryan 115, Kayla Roberts 127
East Robertson: Delaney Lazenby 81*, Audrey Flynn 148
Jo Byrns: Maecy Traughber 111*, Haleigh Riley 120*, Keylea Richardson 137
Houston County: Gracie Leslie 124, Madison Middleton 137
Martin Luther King: Alina Pan 102*
Nashville Christian: Kate Pennington 107*
*Advances to region tournament as an individual player
Boys Team Scores
(Top three teams advance to region tournament)
Lipscomb Academy 299, Martin Luther King 333, East Robertson 353, Hume Fogg 369, Nashville Christian 373, Clarksville Academy 392, Houston County 409
Boys Individual Scores
Lipscomb Academy: Dawson Armstrong 69, David Armstrong 74, Pau Swindell 74, Seth Sabin 82, Heath Bridges 83
Martin Luther King: Oliver Gore 77, Kyle Koonce 78, Michael Kessler 87, Matt Bray 91
East Robertson: Levi Lorenzo 74, Marshall Wix 91, John Michael Habdy 93, B.J. Vaughn 95, Matthew Wix 108
Hume Fogg: Max Harris 87*, John Robinson 89, Thomas Cooke 92, Davis Praskach 101, Josh Gunter 116
Nashville Christian: Austin Bishop 82*, Alex Bishop 87*, Jacob Bretz 100, McCarty Forte 104
Clarksville Academy: Austin Cherry 84*, Trevor Mace 91, Josh Morton 108, Eli Grissom109, Austin Scott 122,
Houston County: Jon Thomas Fussell 96, Dakota Hooper 101, Joe Gray 102, Blake Nolen 110, Logan Hooper 128
Jo Byrns: Nicholas Henderson 76*, Dean Pendleton 94, Jesse Burton 99
McEwen: Kyle Hodges 98, Junior Jones 144
East Nashville: Ryan Troup 110
Maplewood: Austin Owen 118
Whites Creek: Aaron Johnson 121
*Advances to region tournament as an individual player