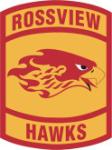 Clarksville, TN – After getting behind 20-0 in the first half, Rossview High School's football team put a huge scare into the state's number-one ranked team in Class 5-A, with Henry County escaping the Hawks with a 29-27 District 10-AAA win.
Rossview (4-1, 1-1 District 10-AAA) lost two fumbles and an interception its first four possessions of the game, with two of those being turned into touchdowns by the Patriots to put the Hawks down 14 midway through the second quarter.
A great punt return, after the Hawks were pinned deep in their own end of the field, set up the third Henry County (5-0, 2-0 District 10-AAA) score to put the number-one ranked team in the state up 20-0, with 4:10 left in the first half.
But Rossview closed out the first half with a 12-play 62-yard drive; with Isaiah Johnson scoring from four yards out – with 30.5 second left before intermission to get the Hawks back to within a two-score game, 20-7.
Rossview would open the second half by taking advantage of a Henry County fumble on its opening drive of the half to get within six points, 20-14.
Recovering the ball at the Patriots 49, Rossview marched down the field on eight plays – with Johnson taking it in from one yard out, with 7:46 left in the third quarter.
The Hawks defense stood tall once again, forcing the Patriots to punt the ball back to Rossview, with 3:45 left in the period down six.
But the momentum that Rossview had fought so hard to regain was ripped away by Henry County, as the Patriots were able to force a safety on the ensuing Hawks drive to make it an eight-point game 22-14, with 1:27 left in the third.
After Rossview kicked the ball back to Henry County, the Patriots looked to put the game away by marching down and scoring their only touchdown of the second half — a seven-yard run by Colton Randolph – to go up two score, 29-14, with 11:51 left in the game.
But Rossview wouldn't go down without a fight, as the Hawks responded with an 85-yard touchdown by Johnson to make it 29-20, after the two-point conversion pass failed with 11:34 left.
Johnson would finish the game with 203 yards rushing on 27 carries.
After forcing Henry County to punt on its next possession, Rossview made it a two-point game, by driving 85 yards on 11 plays – capped for with a Johnson 3-yard run – to make it 29-27, with 5:48 left in the game.
But the Hawks would get no closer, as Henry County run out the clock to escape with the two-point win.
Both teams return to action September 27th, as Rossview hosts Northeast High School and Henry County hosts Kenwood High School.
Box Score
Henry County 29, Rossview 27
| | | | | | |
| --- | --- | --- | --- | --- | --- |
| | 1 | 2 | 3 | 4 | Final |
| Henry County Patriots | 7 | 13 | 2 | 7 | 29 |
| Rossview High School Hawks | 0 | 7 | 7 | 13 | 27 |
First Quarter
HC—Chase Johnson 5-yard run (Bryan Rammel, kick), 2:35
Second Quarter
HC—Brandon Donaldson 24-yard pass from Colton Randolph (Rammel, kick), 7:10
HC—Randolph 1-yard run (kick blocked), 4:10
R—Isaiah Johnson 4-yard run (Christian Kubas, kick), 30.5
Third Quarter
R—Johnson 1-yard run (Kubas, kick), 7:46
HC—Safety, 1:27
Fourth Quarter
HC—Randolph 7-yard run (Rammel, kick), 11:51
R—Johnson 85-yard run (pass failed), 11:34
R—Johnson 3-yard run (Kubas, kick), 5:48
| | Henry County | Rossview |
| --- | --- | --- |
| First Downs | 190 | 17 |
| Rush Att.-Yards | 53-321 | 53-248 |
| Pass Yards | 61 | 65 |
| Total Offense | 383 | 313 |
| C-A-I | 3-5-0 | 4-7-1 |
| Punts-Avg. | 3-37.3 | 2-30.0 |
| Fumbls Lost | 3-2 | 5-2 |
| Penalties-Yards | 5-55 | 5-30 |