Clarksville, TN – Austin Peay State University's softball team wrapped up its opening weekend of fall play, September 22nd at Cheryl Holt Field, by pounding out 26 hits in a doubleheader sweep of Dyersburg State Community College, by finals of 11-0 and 10-2.
The wins improve the Lady Govs to 3-0 so far this fall, having also picked up a 7-4 win against Rend Lake (IL) Community College September 20th.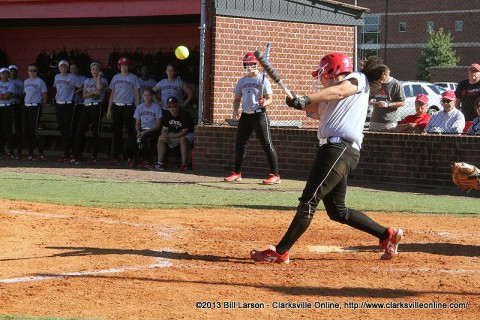 "We played a lot better today than we did Friday," Austin Peay coach Stephanie Paris said. "We hit a lot better and we definitely played a lot better defense and executed some things that we needed too.
"Our pitching was there, and we did make a few mistakes, but we came right back at the plate and made up for it."
In Game 1, the Lady Govs jumped on the Lady Eagles right away with juniors Christina Beam and Laurel Burroughs opening the bottom of the first inning with back-to-back singles – followed by a double by freshman Christiana Gable – on the way to scoring four runs.
That would be all the runs that Austin Peay starter freshman Brianna Bartuccio when need, as she limited Dyersburg State to three hits and no runs in four inning of work, before fellow freshman Allie Blackwood came in to pitch a scoreless fifth inning.
Austin Peay would add four more runs in the second inning, highlighted by a three-run homer by sophomore Vinchenza DiBenedetto and a RBI double by from red-shirt senior Kristin Whitmire to make it 8-0.
"We always talk about putting up crooked numbers each inning," Paris said. "It's always good to see that and I thought we did a much better job of hitting today than in our first game."
Austin Peay would add two more runs in the third inning on an RBI triple by freshman Rikki Arkansas – scored later in the inning on single by Beam – while also adding an unearned run in the fourth inning for the 11-0 final.
In Game 2, Dyersburg State plated two runs in the top of the first inning to take its first lead of the day.
Austin Peay would cut that deficit in half with a run in the bottom of the second inning on an RBI single by freshman Fatima Larios, then take the lead for good with three runs in the third – coming on an RBI single by Gable and a two-run double by freshman Sidney Hooper.
Hooper also picked up the win – her second of the weekend – going six inning and giving up two runs on three hits.
The Lady Govs would add on six more runs before the end of the game, with three coming on Gable home run in the fourth, two on a single by freshman Laura Judy in the fifth and a final run on an RBI single in the sixth sophomore Mel Pavel.
Austin Peay will return to action Saturday, September 28th, as they host Motlow State Community College for a noon doubleheader.
Photo Gallery – Game 1
Photo Gallery – Game 2