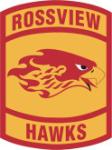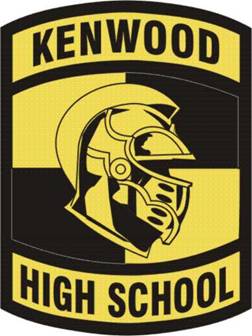 Clarksville, TN – After scoring 2 goals in the first 10 minutes, the Rossview High School Lady Hawks added five more in the rain to defeat the Kenwood High School Lady Knights 7-0, Tuesday, September 24th. The potent Lady Hawks offense was too much for the young Lady Knights.
"It's a growing club. We don't have a lot of travel players on our team, but we're growing and we are getting better everyday," Kenwood Lady Knights head coach Kevin Ford said. "Maybe in a couple of years we will be a flourishing club, but at the moment we are still learning, we are still getting down the basics."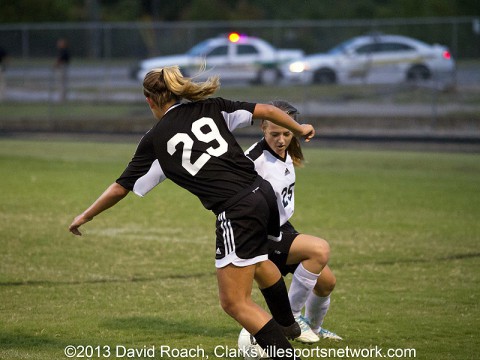 From the initial kickoff, the Lady Knights were on the defensive. The Lady Hawks forwards lived on the Lady Knights side of the field. They controlled the ball most of the game, splitting Lady Knight defenders to set up attacks.
The Lady Knights backs were hard pressed to keep up with the Lady Hawks constant offensive attack. Goalkeeper Kylie Logue was busy throughout the game. She aggressively attacked balls in her area and made many good saves despite being bombarded with many shots on goal.
The Lady Hawks made over 20 shots on goal. Conversely, the Lady Knights forwards had trouble maintaining possession and generating any offense. They made only 2 shots on goal in the game, both in the first half.
Madison Stephens made goals 3 and 4 for the Lady Hawks. The last with less than a minute left in the half to make the score 4-0.
The rain did not slow down the Lady Hawks offense in the second half. Kristen Chance shot a goal that went right through the diving goalkeepers hands in the 38th minute of the second half.
The last two goals were made by Payton Atwell. Atwell scored in the 35th minute and in the last 90 seconds of the game.
Ford liked the way his team continued to play with effort throughout the game in the bad weather. He considered the loss a learning experience.
"It's a bad loss, but at the same time there are things that can be improved, there are things that can be worked on," Ford said. "Its very correctable mistakes. All it takes is a little bit more practice and a little more skill. We went up against a very good side and we did our best."
Next, the Rossview Lady Hawks will travel to play in a conference match up against Henry County, Thursday, September 26th.