Clarksville, TN – Be a part of a Clarksville tradition by participating in this year's annual Christmas parade, hosted by the City of Clarksville and Montgomery County Government.
The parade, a night-time, lighted Christmas parade, is scheduled for Saturday, December 7th, 2013 beginning at 5:00pm in Downtown Clarksville and will feature the Budweiser Clydesdales and the 101st Army Band.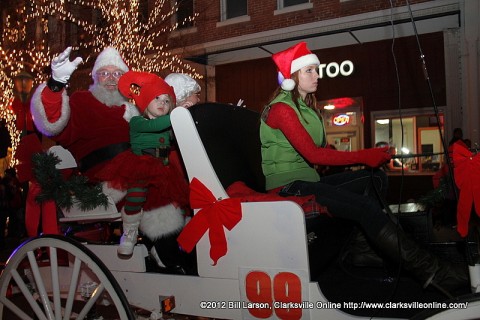 The Christmas parade is an event for local businesses, schools, and organizations to showcase their Christmas spirit. This year's theme is "A Storybook Christmas". The deadline to enter is December 5th, 2013.
Parade entry forms are available at the city's three community centers, the Clarksville Parks and Recreation office, and online at mcgtn.org or www.cityofclarksville.com/parade. The cost to enter is $30.00 for all entries except churches and civic groups. All entries must also be accompanied by an unwrapped new toy, non-perishable food items, or grocery store gift cards valued at $25.00. Church and civic groups need only donate the donation valued at $25.00 for entry.
All toys, non-perishable food items, and gift cards will be collected during parade check-in, on December 7th, and will be distributed among local charities.
For more information about the 54th Annual Christmas Parade, please contact Clarksville Parks and Recreation at 931.645.7476 or visit recpro.cityofclarksville.com.