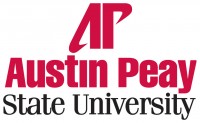 Clarksville, TN – When Farm Credit Mid-America set out to invest in the next generation of American farmers, the Kentucky-based lender looked south to Austin Peay State University.
That's because APSU is home to the fastest growing college department of agriculture in Tennessee, with student enrollment in that program increasing by 75 percent in the last five years.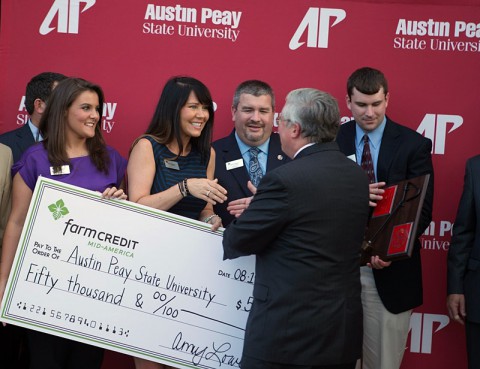 Last month, Matt Neal, regional vice president for Farm Credit Mid-America, visited the APSU Environmental Education Center (EEC) and presented the department with a $50,000 donation. The money will help fund a new, multipurpose animal science facility, currently under construction at APSU.
"Austin Peay is able to work with many young people who are already involved in farming operations and don't have the time to go to school across the state or full time, and we saw this as an excellent opportunity to invest in the future farmers of this area," Neal, a member of the APSU ag board, said.
In December 2012, the University broke ground on the new DeWald Livestock Pavilion at the EEC, thanks to a generous donation by Dr. Ernie and Joan DeWald and a Tennessee Agricultural Enhancement Grant. The modern facility will replace an old hay barn on the property, providing a practical working and learning space for faculty, staff and students.
That project is the first phase in a proposed three-phase animal science facility, which will eventually include a new animal science laboratory and classroom. The Farm Credit donation will help fund phase two of project – a livestock handling area.
"We really do need to update and upgrade our facilities so we can provide hands on teaching and learning of modern animal science techniques," Dr. Don Sudbrink, chair of the APSU Department of Agriculture, said. "Animal science is a subject area of very strong interest among many of our students. This new facility will greatly enhance our ability to develop state-of-the-art genetics and breeding programs at APSU such as those spearheaded by Dr. Rodney Mills."
Tennessee's Commissioner of Agriculture, Julius Johnson, joined Tennessee State Senator Mark Green, Tennessee State Representative Joe Pitts and Tennessee State Representative Curtis Johnson at the August event as well. They have helped secure a $400,000 matching grant for the project.
"We are very appreciative of all of the support that Farm Credit and our legislators continue to give us," Sudbrink said. "And we're glad for their support of agricultural education in this region."
APSU President Tim Hall has labeled the department one of the University's "hot spots." The department now has four full-time faculty members, along with an agriculture advisory committee, made up of local leaders, to help maintain its growth and service to the community.
For more information on the Farm Credit donation or other projects at the APSU Farm, contact the APSU Department of Agriculture at 931.221.7272.