Clarksville, TN – Austin Peay State University's softball team hopes to carry forward its opening week success into this Saturday's noon doubleheader at Cheryl Holt Field versus Motlow State Community College.
The Lady Govs hit over .400 as a team last weekend, while only giving up six total runs, in going 3-0 overall against Rend Lake Community College and Dyersburg State Community College.
"Laurel Burroughs had a great week hitting, Christiana Gable had a great weekend, (Vinchenza) DiBenedetto had a couple of big-time hits," Austin Peay coach Stephanie Paris said. "Christina Beam also had a good weekend and Sydney Hooper also had a big double in that second game.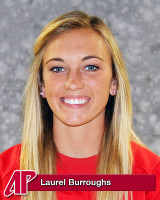 "But we still need to get better in the circle. Our command needs to get a little bit better as pitchers; I think we need that more than anything right now heading into this second weekend's games."
Hooper picked up two wins in the circle, giving up six hits and two runs, in 11 innings or work, while Brianna Bartuccio authored a five-inning shutout win in her start versus Dyersburg State.
Motlow State enters the weekend with a 4-2 overall record this fall.
"We're still working on everything right now, fundamentals and our approach to things," Paris said. "Our pitchers just need to throw to batters; they need to be put in situations – hitting situations – where they have to work out of it.
"We talk all the time about getting batters out in the first three pitches and really focusing on our command and having a good start to every inning that has been our real focus heading into this weekend."
After this weekend the Lady Govs will have one more home doubleheader to finish out its fall slate of games, as they host Volunteer State  Community College on Wednesday starting at 3:00pm