Written by Marlon Scott
Clarksville, TN – "The curse is gone." Those were Brad VanKirk's words after he won the 2013 Mann, Smith & Cummings Insurance Senior Tournament of Champions at Swan Lake golf course on a rainy Sunday afternoon.
"It's my first individual victory at Swan Lake golf course. It has been a curse," VanKirk said. "I've won the Senior's Commander General the last two years, but I've never been able to close the deal at Swan Lake."
After carding a 2 under round of 69, VanKirk had to play against Jim Duttweiler in a play off. Duttweiler was one of two seniors who had shot 3 under on the day. In the play off, both VanKirk and Duttweiler pared holes 1 and 9.
On the third hole of the play off, hole 10, VanKirk's approach found the edge of the green, just inside the rough on the far side of the hole, setting up a long putt for birdie. Duttweiler's approach hit the near side rough on a downhill slope that ran to water. The ball rolled back a couple feet before stopping, setting up a chip shot to hit the green.
"I knew that they had slowed down a little bit because of the little bit of rain that we had. I didn't want to knock it off the green obviously, but I did want to leave myself a five, six footer," VanKirk said. "When I hit it, I thought I hit it too hard and it ended up to or three feet short. I was pretty pleased with the putt considering where my opponent was. I figured after he hit his chip a par was going to win the hole."
After his chip shot, Duttweiler 2-putt the hole for bogey. VanKirk made his short putt to par and win the tournament.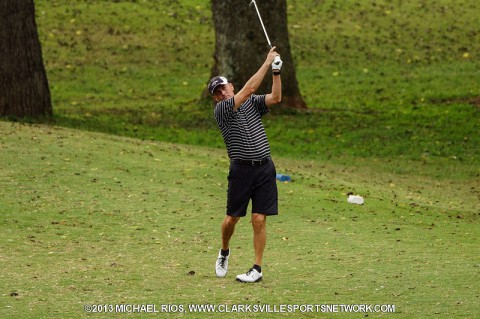 "It feels wonderful," VanKirk said. "The curse is gone. I was amazed we got the day in with no rain delays because it didn't look good. I played really well today. I didn't make any putts, but I put myself in the right sport or right position most of the day and just struck the ball real solidly today."
Duttweiler admitted he had two good chances to birdie and win the playoff.
"I can't complain. The first two holes, I did everything I could to make birdie and they just didn't go in," Duttweiler said.
Harold Hensley was able to maintain the lead he established in the first round and win the "super" senior portion of the Tournament of Champions. He fired a 4 over, 75 second round.
"It feels good. I hadn't won anything in a long time," Hensley said. "I'm glad they put in another group for the Tournament of Champions for the older guys, 65 and above. That keeps us interested."
Tommy Shearon had the best second round score of the super seniors. He carded a 1 over round of 72. Shearon finished one stroke behind Hensley and one ahead of Bill Wilkinson.
2013 Mann Smith & Cummings Senior Tournament of Champions Scores
Brad Van Kirk …..71/ 69 = 140
Jim Duttweiler…..72 /68 = 140
Greg Guinn ……..70/ 72 = 142
Rick Richardson ..71/71 = 142
Marcus Sartain ….75/ 68 = 143
Joey Long ………72/ 73 = 145
Steve Blackwell ..70/ 78 = 148
Jim Mashburn ….80/ 73 = 153
2013 Mann Smith & Cummings Super Senior Tournament of Champion Scores
Harold Hensley ….. 73/ 75 = 148
Tommy Shearon …. 77/ 72 = 149
Bill Wilkinson …….76/ 74 = 150
Bob Bracy …………75/ 78 = 153
Photo Gallery