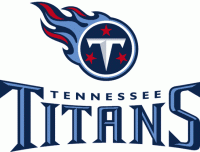 Nashville, TN – The Tennessee Titans beat the New York Jets Sunday afternoon at LP Field 38-13. The win is overshadowed by the injury to quarterback Jake Locker.
Early in the third quarter, Locker goes back to pass and just gets the ball off before getting hit by Jet's defensive linemen Muhammad Wilkerson, then gets hit by defensive end Quinton Coples. Lockers goes to the ground grabbing his right hip with 11:14 left in the third quarter. He gave the fans a thumbs up as he was carted off the field.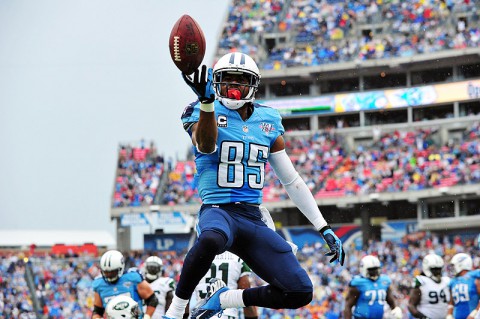 "I will just say first because I know the concern for Jake (Locker), we have the same concern we don't know the extent of when he got hit on that play," stated Tennessee Titans head coach Mike Munchak. "He injured his hip, from there we don't know. He was in pain. We don't know much more than that. He went to the hospital. They are checking on him now, so we will get more information later, but that's all we have right now other than the fact that what you all saw."
Before leaving the game, Locker was off to his best start of the season. Locker was 18 of 24 passes for 149 yards, three touchdowns, and no interceptions for a career-high passer rating of 130.0. Locker completed his first seven pass attempts against the Jets. He had a one-yard touchdown pass to tight end Delanie Walker, a four-yard touchdown to receiver Nate Washington and a 16-yarder to receiver Justin Hunter.
"He (Locker) was doing exactly what we hope he would do. He got the ball in the first half and converted all three turnovers into touchdown passes," said Munchak. "(Justin) Hunter makes a great catch on the third one there before the half."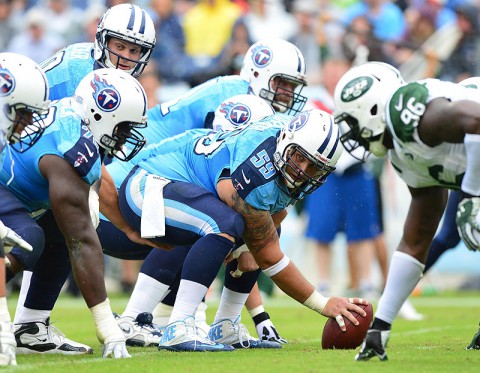 "Yeah, we haven't turned the ball over yet in four games and that's pretty much unheard of in this league," stated Munchak. "You saw what happened to the Jets. That's what hurt them so much is turning the ball over. So, I mean he (Locker) was taking care of it. He took some sacks early to avoid making mistakes. He was playing about as good as I think he could play in this game today."
Ryan Fitzpatrick came in for the injured Locker and connected on 2 of 8 passes for 108 yards and a touchdown. At 7:19 in the fourth quarter, Fitzpatrick connected with Nate Washington deep down the middle for a 77 yard touchdown.
"That's tough. That's a spot I haven't been in for a little while but obviously your mind is with Jake (Locker), kind of thinking about him and hoping that everything is OK there.  And then on the other hand, we've got a game," said Fitzpatrick.  "Today was 'just go in there and don't screw it up.'  The way the defense was playing it was unbelievable. It's just one of those things where we're kind of watching the clock and watching it bleed and bleed and try to just end the game in the second half basically but the defense played unbelievable today."
Titan's running back Chris Johnson was held to 21 yards on 15 attempts. Jackie Battle had 11 attempts for 42 yards.
Nate Washington led all receivers with 4 catches for 105 yards and two touchdowns. Kendall Wright has 5 grabs for 56 yards. Damian Williams caught 5 balls for 53 yards.
For the Jets, rookie quarterback Geno Smith completed 23 of 24 pass attempts for 289 yards, a touchdown and two interceptions. Smith also had a fumble in the fourth quarter when Titans defensive tackle Karl Klug sacked him and in the process, forced a fumble and then gained control of the ball in the end zone for a touchdown.
Running back Bilal Powell gained 66 yards for New York on 14 attempts. Powell also had 3 receptions for 42 yards. Tight end Kellen Winslow had 73 yards on 6 catches. Jeremy Kerley caught 4 balls for 65 yards.
Titans cornerback Alterraun Verner had a career-high two interceptions and a fumble recovery, bringing his season total to six takeaways—four interceptions and two fumble recoveries. On the Jets' second play from scrimmage, Verner intercepted a Geno Smith pass and recorded a career-long 34-yard return. In the second quarter, he scooped up a fumble by Smith and returned the ball nine yards, and later in the same quarter, he intercepted another pass from Smith.  All three takeaways resulted in Titans touchdowns.
For the second time in four games, the Titans defense notched five sacks. Against the Jets, defensive end Ropati Pitoitua led the team with a pair of sacks, and he was joined by linebacker Zach Brown, defensive tackle Jurrell Casey and defensive tackle Karl Klug with one each. The defense posted five sacks in the season opener at the Pittsburgh Steelers as well.
The Titans completed their fourth consecutive game with a time of possession of more than 30 minutes. The last time they accomplished the feat was a four-game span in 2009, from November 15th against the Buffalo Bills to December 6th at the Indianapolis Colts.
In their next game, the Tennessee Titans face the undefeated Kansas City Chiefs Sunday, October 6th at LP Field. The Kansas City blew out the New York Giants 31-7 Sunday at home. The game Sunday kicks off at 12:00pm CT.
Titans-Jets Game Inactives
Tennessee Titans
#18 WR Kenny Britt
#23 RB Shonn Greene
#57 LB Patrick Bailey
#62 C Brian Schwenke
#68 T Byron Stingily
#94 DT Sammie Hill
#98 DE Lavar Edwards
Lineup Changes
#13 Kendall Wright starts at WR in place of #18 Kenny Britt
#90 Antonio Johnson starts at DT in place of #94 Sammie Hill
New York Jets
#9 QB Brady Quinn
#27 CB Dee Milliner
#33 RB Chris Ivory
#55 LB Ricky Sapp
#65 G Will Campbell
#71 T Ben Ijalana
#75 OL Oday Aboushi
Lineup Changes
#30 Darrin Walls starts at CB in place of #27 Dee Milliner
Box Score
New York Jets 13 – Tennessee Titans 38
LP Field | Nashville, TN
| | | | | | |
| --- | --- | --- | --- | --- | --- |
| | 1 | 2 | 3 | 4 | Final |
| New York Jets | 0 | 6 | 0 | 7 | 13 |
| Tennessee Titans | 10 | 14 | 0 | 14 | 38 |
New York Jets
Passing
CP/AT
YDS
TD
INT
G. Smith
23/34
289
1
2
Rushing
ATT
YDS
TD
LG
B. Powell
14
66
0
12
T. Bohanon
4
17
0
8
G. Smith
3
7
0
16
A. Green
2
1
0
3
Receiving
REC
YDS
TD
LG
K. Winslow
6
73
0
25
J. Kerley
4
65
0
23
B. Powell
3
42
0
36
J. Cumberland
1
34
1
34T
S. Holmes
1
25
0
25
E. Gates
3
24
0
11
T. Bohanon
3
17
0
7
B. Obomanu
1
8
0
8
A. Green
1
1
0
1
Fumbles
FUM
LOST
REC
YDS
G. Smith
2
2
0
0
Kicking
FG
LG
XP
PTS
N. Folk
2/2
47
1/1
7
Punting
NO
AVG
I20
LG
R. Quigley
5
41.8
1
56
Kickoff Returns
NO
AVG
TD
LG
E. Gates
2
23
0
28
N. Bellore
1
0
0
0
Punt Returns
NO
AVG
TD
LG
J. Kerley
2
3
0
5
Tennessee Titans
Passing
CP/AT
YDS
TD
INT
J. Locker
18/24
149
3
0
R. Fitzpatrick
3/8
108
1
0
Rushing
ATT
YDS
TD
LG
J. Battle
11
42
0
20
C. Johnson
15
21
0
8
J. Locker
3
17
0
11
R. Fitzpatrick
2
-2
0
-1
Receiving
REC
YDS
TD
LG
N. Washington
4
105
2
77T
K. Wright
5
56
0
25
D. Williams
5
53
0
25
J. Hunter
1
16
1
16T
D. Walker
3
14
1
7
C. Johnson
2
10
0
8
C. Mooney
1
3
0
3
Fumbles
FUM
LOST
REC
YDS
Z. Brown
0
0
0
0
K. Klug
0
0
1
0
A. Verner
0
0
1
9
Kicking
FG
LG
XP
PTS
R. Bironas
1/1
26
5/5
8
Punting
NO
AVG
I20
LG
B. Kern
7
40.9
4
54
Punt Returns
NO
AVG
TD
LG
D. Reynaud
2
18
0
35