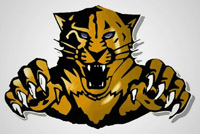 Manchester, TN – Clarksville Academy senior Anna Michelle Moore wasn't able to move up the leaderboard, October 2nd at the WillowBrook Golf Club, in the final round of the 2013 TSSAA Class A-AA State Golf Championships; but she did post a career best fourth-place finish in the event.
Making her fourth straight appearance in the state finals, this year's finish bested Moore's tie for sixth place finish as a junior, seventh place finish as a sophomore – both coming for Clarksville Academy — while her freshman year she was 31st overall at the AAA state tournament playing for Rossview High School.
Moore finished the tournament at 12-over 156 after firing back-to-back rounds of 78, 15 shots back to the tournament winner, Sophia Schubert from Christian Academy of Knoxville.
Moore's teammate, sophomore Bailey Foote, cut eight shots off her opening round in carding an 86 in round two to finish with a total of 180 – and moving up five spots to finish in a tie for 24th place overall.
As a team, the Lady Cougars moved up one spot over all in the final round to finish fifth overall – with a 336 total – 21 shots back of state team champion Sullivan South High School.