Austin Peay Governors vs. Eastern Kentucky Colonels
October 5th, 2013 | 5:00pm CT
Richmond, KY | Roy Kidd Stadium (24,000)

Clarksville, TN – After a week off, the Austin Peay State University Governors Football team will open Ohio Valley Conference play at the Eastern Kentucky Colonels Saturday, October 5th at 5:00pm CT.
This is the second straight season the Govs have played in Richmond, KY. This will be the 46th meeting, with the Governors trailing the series 5-40. APSU lost to Eastern Kentucky, 45-14, October 13th, 2012, in Richmond.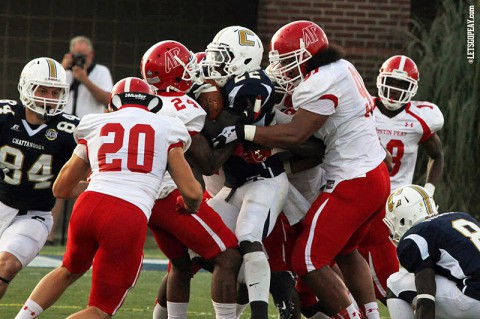 This will be the Governors fifth straight road game to open the 2013 season. The Governors opened the season playing four straight non-conference road games–Tennessee (August 31st), Vanderbilt (September 7th), Chattanooga (September 14th) and Ohio (September 21st). The Govs' first home game will be Thursday, October 10th against Eastern Illinois.
This is Austin Peay's 41st Ohio Valley Conference opener. The Govs are 10-30 all-time in league openers, including a 34-14 loss at Tennessee State a year ago. Prior to that, the Govs won their previous three OVC openers.
First-year APSU coach Kirby Cannon will take the field in his first OVC contest.
The Governors enter the contest with 20 straight road losses. Their last road victory came against Tennessee State, a 26-23 verdict, September 18th, 2010. After going 84 games without being shutout, the Govs have been shut out twice in four games this season.
Offensive Notes
APSU saw its scoring streak end at 84 games in the 45-0 loss to Tennessee. It was the first time the Govs have been shutout since returning to scholarship football in 2006. The previous time APSU was shutout came at Drake, 54-0, September 24th, 2005. The Govs then were shutout a second time, 38-0, at Ohio.
Austin Peay led the OVC in fewest sacks allowed with just 10 in 11 games in 2012. In fact, that number was two better than Jacksonville State and UT Martin. However, in the season opener against Tennessee, the Governors permitted a pair of sacks and allowed four more to Vanderbilt. APSU quarterbacks were sacked just once by UTC but three times at Ohio.
Sophomore running back Omar Williams' 57-yard fourth-quarter run against Ohio was the Govs' longest scrimmage play this season.
Omar Williams finished with 103 yards rushing against Ohio. It was APSU's first 100-yard rushing effort since Ean Pemberton had 112 against Culver-Stockton, November 3rd, 2012.
When Andrew Spivey completed 11 of 22 passes for 114 yards against Ohio he came APSU's first 100-yard passer of 2013.
When walk-on Kamron Johnson caught five passes against Ohio it not only represented a career best for the senior but the Govs' single-game high for 2013.
After being held to four first-half first downs at Ohio, the Governors bounced back with nine in the second half.
Defensive Notes
Senior safety EnRiques Perry was credited with forcing two fumbles in the game at Ohio while Montez Carlton had the other.
The Governors held a 3-0 edge in turnovers–all fumble recoveries–at Ohio.
Senior inside linebacker Craig Salley had APSU's first double-digit tackle performance this season with 10 stops against Ohio.
Making his first start, sophomore linebacker Montrieze Lillard had seven stops against Ohio. He tied with safety Leron Eaddy and cornerback Montez Carlton for second on the team in tackles.
Special Teams Notes
In the first four games junior punter Ben Campbell has booted the ball 30 times. At his current pace he would end with 90 punts. APSU's record for most single-season punts is held by Grad Wright, who punted 82 times during the 1990 season.
Austin Peay placekickers were a combined zero for three in field goals against Ohio. Junior Walter Spears and freshman Chase Dunlap both missed attempts while Dunlap had another blocked. As a result, APSU kickers are now 2-of-6 on field-goal attempts this season.
Governors Radio Network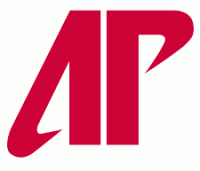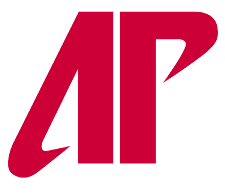 WVRY 105.1 FM serves as the Governors Sports Network in 2013-14. David Loos, who also handles play-by-play for Lady Govs basketball and color for the Govs, is in his 12th season as football play-by-play voice while Van Stokes, a veteran broadcaster with a diverse background adds the color.
Govs Game Day will begin one hour before game time followed by the pre-game show 30 minutes prior to kickoff each week.
Television-Internet
All home APSU football games will be available this season on Charter Channel 99, CDE Lightband Channel 9 and U-Verse 99. The live television feed is produced by APSU's Mass Communications department.
There is no TV broadcast for the EKU-Austin Peay game, although it can be accessed via the internet at OVC Digital Network.
OVC Digital Network
All OVC football games plus home non-conference contests will be televised in HD by the new OVC Digital Network. The OVC is excited to offer LIVE and on-demand streaming video and audio straight to your computer, tablet or smart phone.
Govs Social Media
All things related to Austin Peay Athletics can be found on Twitter @LetsGoPeay and through Facebook at www.facebook.com/apsugovs.
For all your APSU athletics needs, be sure to visit www.LetsGoPeay.com