Clarksville, TN – Austin Peay State University volleyball team may have played their most balanced match of the year, October 5th at the Dunn Center, as they Lady Govs knocked off Eastern Kentucky University in an Ohio Valley Conference match in three straight games, by scores of 25-22, 25-17, 25-21.
The win for Austin Peay (6-13, 3-1 OVC) was its season-best third straight victory, while the Colonels (8-10, 1-3 OVC) have dropped their last three matches.
"We didn't think the match would go that easily," Austin Peay coach Taylor Mott said. "Today was the first time this season where everybody contributed and I felt a sense of confidence which all season I haven't felt.
"Before today we would have one or two hitter that were good at a time, but we haven't had them all firing on the same cylinder. Today that happened and we hope to build on that from here on out."
Early on it didn't look that way, as the Colonels got out to a 17-14 advantage in the opening game – with the Lady Govs struggling at the net with their blocking, which Eastern Kentucky took advantage of hitting for over a .400 kill percentage.
"I remember when coach Mott called that timeout during that first set she asked us where our block was at," senior middle blocker Lauren Henderson said. "We come back out after that timeout and get two or three blocks in a row and it completely changed the game."
Changed the game may be an understatement, as the Lady Govs would run off eight straight points to go up 22-17 on their way to a game 1 victory, 25-22.
"Defensively for our back-row players we can make their jobs so much easier on the front row by blocking and getting touches on the ball and slowing it down," Henderson said. "When we block and get touches on the ball our defense is better and that go a whole out smoother for us overall."
Henderson would finish with nine kills and four blocks.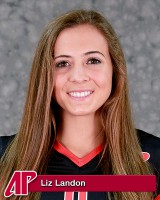 Game 2 saw the two team's battle back-and-fourth early on, as the two teams saw 10 ties in the game – the last come at 15-15.
But Austin Peay got back-to-back kills from junior middle blocker Liz Landon to spark a 10-2 run to close out the game and give the Lady Govs a comfortable 2-0 advantage.
"It was a lot of fun out there and (setter) Cami (Fields) did a great job of setting up the offense," Landon said. "We've been working very hard at practice and I think our offense is starting to come around and we're going to keep working and keep getting better as the season goes on."
Landon totaled 11 kills in the match, in 17 attack attempts, while Fields had assists on 41 of the Lady Govs 49 kills in the match.
Austin Peay would jump out early in Game 3, scoring the first five points, and led by as many as seven points, 16-9.
But Eastern Kentucky would make one final run at the Lady Govs, tying the game 21-21, but Austin Peay closed out the match by scoring the final four points – including a kill by red-shirt freshman Sammie Ebright to end the game.
The Lady Govs will step out of OVC play briefly for their next match on October 8th, as they travel to Southeastern Conference member University of Missouri for a meeting with the 18-0 Tigers.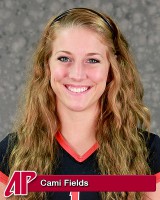 "Missouri is an unbelievable team on an 18-game winning streak," Mott said. "But we play these matches to test ourselves and go in thinking this is the best team that we're going to see and let's see what we can do against them, plus it prepares us for our conference play."
Austin Peay's next home match will be a OVC contest versus Southeast Missouri State University on October 11th, at 7:00pm.
Photo Gallery
APSU Head Coach Taylor Mott
Box Score
Eastern Kentucky vs Austin Peay
October 5th, 2013 at Clarksville, TN
Eastern Kentucky
ATTACK
SET
SERVE
SRV
DEF
BLOCK
GEN
##
Player
SP
K
E
TA
PCT
A
SA
SE
RE
DIG
BS
BA
BE
BHE
Points

2

PLAGENS, Alexis

3

8

4

26

.154

0

0

0

0

3

0

0

1

0

8.0

3

MOFFAT, Mallori

3

1

0

4

.250

9

0

0

0

11

0

0

0

0

1.0

7

PETERS, Ally

3

5

2

15

.200

0

0

0

0

1

0

0

0

0

5.0

11

VICK, Rachel

3

1

1

9

.000

0

0

0

0

0

2

0

0

0

3.0

21

EDMOND, Ashley

3

9

5

30

.133

3

0

1

2

6

1

0

1

0

10.0

22

TASHENBERG, Marissa

3

1

0

6

.167

0

0

2

0

2

0

0

1

0

1.0

1

OTT, Dena

3

1

0

6

.167

6

3

0

0

9

0

0

0

0

4.0

6

MINDLINA, Julia

3

0

0

0

.000

1

0

2

0

8

0

0

0

0

0.0

9

BOYER, Johanna

3

6

5

23

.043

0

0

0

0

1

0

0

0

0

6.0

13

CVELBAR, Abbey

3

0

1

2

-.500

11

0

0

0

6

0

0

0

0

0.0

Totals

3

32

18

121

.116

30

3

5

2

47

3

0

3

0

38.0

TOTAL TEAM BLOCKS: 3.0
TEAM ATTACK BY SET
Set
K
E
TA
Pct
Sideout
Pct

1

13

6

39

.179

14-24

58%

2

11

5

42

.143

13-25

51%

3

8

7

40

.025

12-24

50%

39-73

53%

SET SCORES
1
2
3
TEAM RECORDS

Eastern Kentucky

(0)

22

17

21

8-10, 1-3 OVC

Austin Peay

(3)

25

25

25

6-13, 3-1 OVC
Austin Peay
ATTACK
SET
SERVE
SRV
DEF
BLOCK
GEN
##
Player
SP
K
E
TA
PCT
A
SA
SE
RE
DIG
BS
BA
BE
BHE
Points

1

FIELDS, Cami

3

0

0

3

.000

41

0

1

0

9

0

1

1

2

0.5

2

HULL, Calyn

3

8

3

23

.217

0

0

0

0

3

1

1

0

0

9.5

4

EBRIGHT, Sammie

3

9

3

20

.300

0

0

0

0

5

0

3

1

0

10.5

8

LANDON, Liz

3

11

1

17

.588

2

0

2

0

4

0

1

1

0

11.5

12

HENDERSON, Lauren

3

9

3

18

.333

0

1

1

0

4

0

4

1

0

12.0

14

STOTTS, Jada

3

12

6

35

.171

0

0

1

0

19

0

2

0

0

13.0

3

ADAMS, April

3

0

0

0

.000

0

0

0

1

16

0

0

0

0

0.0

5

BALES, Lizzy

3

0

0

0

.000

0

1

0

1

3

0

0

0

0

1.0

9

WALKER, Peyton

1

0

0

1

.000

0

0

0

0

0

0

0

0

0

0.0

13

LITCHFIELD, Syd

3

0

0

0

.000

0

0

2

1

2

0

0

0

0

0.0

Totals

3

49

16

117

.282

43

2

7

3

65

1

12

4

2

58.0

TOTAL TEAM BLOCKS: 7.0
TEAM ATTACK BY SET
Set
K
E
TA
Pct
Sideout
Pct

1

16

6

40

.250

15-23

65%

2

18

3

37

.405

13-17

76%

3

15

7

40

.200

13-22

59%

41-62

66%

Site: Clarksville, Tenn. (Dunn Center)
Date: Oct 05, 2013 Attend: 297 Time: 1:20
Referees: Keith Weller, Denise Penzkofer


| | | | | |
| --- | --- | --- | --- | --- |
| | 1 | 2 | 3 | Total |
| Tie scores | 7 | 11 | 1 | 19 |
| Lead changes | 2 | 2 | 0 | 4 |