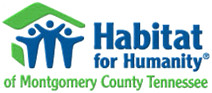 Clarksville, TN – Habitat for Humanity of Montgomery County Tennessee accepted a donation from Pastor Willie Lyle of the Sango United Methodist Church (UMC) this week from the proceeds of the 2011 Sango Scamper Road Race.
Habitat for Humanity has been the beneficiary of this Sango UMC event for over 20 years.
"We are pleased to continue this long-standing partnership with Sango United Methodist Church. Sango UMC has helped lay the foundation for every home we've built since 1992 through their overwhelmingly generous support from the proceeds of their annual Sango Scamper Road Race. We're always excited this time of year – preparing our display for the Sango Scamper Road Race and getting ready to cheer on the participants braving the chill of the 6:00am registration time," states Shelby Logsdon, executive director of Habitat.
"Habitat attends the annual event and provides participants and spectators with information about our mission and housing ministry and how to support our ReStore. We want participants to know that Habitat appreciates everyone involved donating their time and money while having fun running or walking that morning," explains Logsdon.
The 2013 Sango Scamper, offered by Sango UMC, is a great run for all ages. Race participants will receive an event t-shirt and other goodies. Sango UMC plans to offer door prizes of baked goods and top race finishers in each age group and category will receive medals as well as a baked good of their choice baked by members of the church. Expert timing of the race will be performed by the Clarksville Running Club.
Participants can choose from the 10K course, the 5K course and the 1 mile scenic stroll. This race also includes a wheelchair bracket which is separate from the other age groups. 1st and 2nd place awards will be awarded to wheelchair participants for male/female 5K & 10K.
You can register for the race at www.sangoumc.org. Look for the 2013 Sango Scamper Road Race under Latest News and download an entry form or simply register on-line with www.Active.com.
Please make plans to come and join in the fun and help Habitat for Humanity.
About Habitat for Humanity of Montgomery County Tennessee
Since 1992, Habitat has partnered with 83 qualified homeowners who invest sweat equity into building simple, decent and affordable housing to achieve homeownership through a twenty-year, zero-interest mortgage. Habitat collaborates with faith, civic, and business organizations who envision neighborhood revitalization through new home construction.
Please contact the Affiliate office at 931.645.4222 or www.habitatmctn.org.
About Sango United Methodist Church
As part of the family of Christ, Sango United Methodist Church seeks to grow spiritually by living out the Word of God through faithful study, humble service, and sacred prayer. In order to live out this vision we commit ourselves to worship, teach, serve, nurture and witness.
For more information, please contact 931.358.2552 or visit www.sangoumc.org