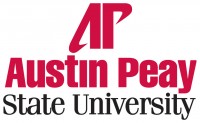 Clarksville, TN – Faculty and staff members at Austin Peay State University recently announced a number of publications, conferences and credentials as part of their professional and scholarly activities.
Dr. Sharon Mabry, professor of music, was a guest lecturer and vocal clinician at Elon University in North Carolina on October 4th.
She worked with several vocal majors in a master class, giving ideas for musical interpretation, vocal diction and vocal technique. The students prepared songs in French and English for the session. In addition, Mabry talked to the audience of faculty and vocal majors about her new best-selling book, "The Performing Life: A Singer's Guide to Survival," published by Scarecrow Press. The day ended with a session that allowed students to ask questions about vocal technique, how to prepare for a vocal career, and how to build confidence as a performer.
University Photographer Beth Liggett's photograph "All about the 0s and 1s" earned a second place recognition in the Science and Research category of the University Photographers' Association of America's Monthly Image Competition for September. The UPAA is a national organization. Liggett's photo featured binary code projected onto an APSU student.
Michael Kasitz, APSU director of public safety/chief of police, recently presented at the 10th Annual Summit on Emergency and Disaster Planning for Colleges, Universities and K-12 Schools in Toronto, Ontario. Kasitz formerly worked at Eastern Kentucky University, and his presentation was a case study on how to secure and protect that university's K-12 Laboratory School without imposing barriers and turning the school into a fortress.
Dr. Thomas King, APSU professor of music, was quoted in the October issue of Classical Singer Magazine. His comments appeared in the article, "If at First You Don't Succeed," in which he discussed his more than 2,700 auditions as a singer and pianist since 1985. King also discussed being artistic director of the American Institute of Musical Studies from 2003-2010, where he auditioned many performers.