Clarksville, TN – Austin Peay State University has announced junior defensive tackle Malcolm Goines has been ruled ineligible for the remainder of the 2013 season by the NCAA.
This sanction results from a discovery during an internal audit that revealed Goines should not have been certified eligible for the 2012 season following his transfer from Grand Rapids Community College. A developmental math class inadvertently was certified as transferable credit.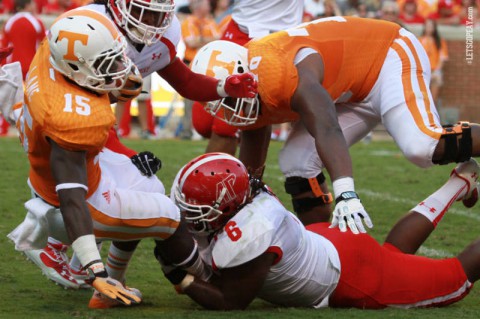 Without the certified class, Goines, a Chattanooga native, did not meet all the NCAA transfer requirements in order to be immediately eligible for competition, a season in which he appeared in all 11 contests. He played the initial two 2013 game against Tennessee and Vanderbilt before the certification error was discovered.
Upon discovery, APSU immediately reported it to the NCAA and declared Goines ineligible, September 13th, the day before the Chattanooga game. A review ensued, with the findings and recommendations reported to the NCAA the following week with self-imposed penalties to include vacating 2012 victories against Culver-Stockton and Tennessee Tech.
"I am disappointed by this error because it adversely impacts a student-athlete," said Athletics Director Derek van der Merwe. "We are going to change and improve our systems to ensure this never happens again. However, I am very proud of this athletics department for pro-actively self-reporting this issue when the mistake was discovered. This demonstrates a foundation of values and integrity."
APSU still is waiting for a response for NCAA Reinforcement as it relates to all self-imposed penalties.