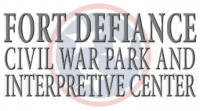 Clarksville, TN – A demonstration of Civil War weaponry is planned for Saturday, November 2nd, 2013, from 10:00am to 5:00pm, at the Fort Defiance Civil War Park and Interpretive Center.
Fort Defiance, located at 120 Duncan Street, will open at 10:00am with the first carbine demonstration taking place at 10:30am and continuing every half hour.
Gregory Wernke will demonstrate firing techniques of numerous Civil War carbines and repeating rifles to include the 1853 Enfield, 1859 Sharp's Carbine, and 1860 Spencer Rifle.
There will be educational talks about Civil War small arms and tactics, the life of Johnny Reb, Billy Yank and women during the war, as well as shelters, equipment, rations, and Camp Life.
The event is free and open to the public.
For a more information, please call 931.472.3351.