Clarksville, TN – His colleagues know him for his laid-back demeanor, his intimidating stature and his Barry White-esque voice on the radio, but mostly, they know Andy Lowery as one of the most professional Deputies they've ever worked with.
"He's the most professional man I've had the pleasure of working with," said Sgt. Robert Boone.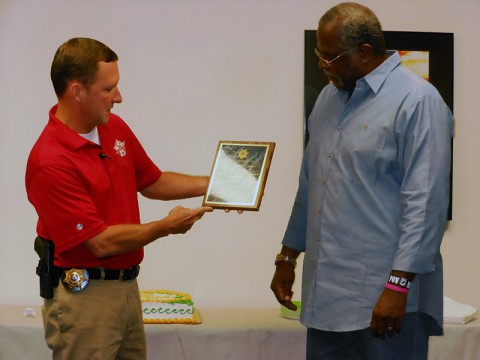 Lowery came to the Sheriff's Office after having served more than 20 years in the military and after having worked with the Tennessee State Capitol Police, and he recently retired after 12 years of service with the office.
"We always said he had that Capitol strut," said Assistant Chief Mike Bowers, laughing.
Lowery's friends and colleagues gathered Friday to share stories, laughs and cake at the Montgomery County Sheriff's Office Friday to wish him well in his retirement.
"You've served your country, you've served your community, and now it's time for you to serve your wife," Chief Deputy John Smith joked.
Boone spoke about how Lowery almost never needed assistance in dealing with calls, whether it was because of his calm nature or his height.
"But there was one time he called for assistance, and when he said, over the radio, 'You better be getting' up here now,' I knew it was serious," Boone said.
Montgomery County Sheriff John Fuson presented Lowery with a plaque, purchased by his colleagues in patrol, and thanked him for his service.
"It's always important for me to show appreciation to employees," said Fuson. "With the time he served his country and served our community, Lowery is definitely a true public servant."