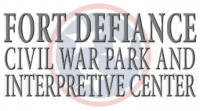 Clarksville, TN – Photographs featuring Clarksville from the 1950's will be on display at the Fort Defiance Interpretive Center, November 4th-30th, 2013.
The public is invited to come see the exhibit and help identify landmarks and people depicted in these historic photographs.
The Fort Defiance Interpretive Center, located at 120 Duncan Street, is open Monday – Saturday, 10:00am to 4:00pm and Sunday, 1:00pm to 4:00pm. Admission is free.
For a more information about Fort Defiance, please visit www.fortdefianceclarksville.com or call 931.472.3351.