Clarksville, TN – On Wednesday, October 9th, 2013, signs and graphics provider FASTSIGNS® of Clarksville opened for business at 2141 Wilma Rudolph Boulevard.
"With our talented team, exceptional customer service and expert marketing and graphic design knowledge, FASTSIGNS of Clarksville is ready to provide local businesses and organizations with first-rate signs and graphics to achieve their goals," said Lincoln Barnard, who owns FASTSIGNS of Clarksville with his wife, Connie.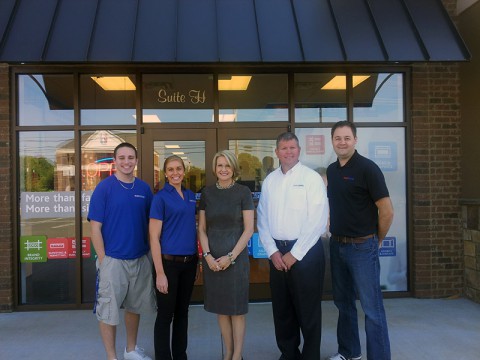 A Clarksville resident, Barnard has over 30 years of experience in merchandising, marketing and store operations.
FASTSIGNS of Clarksville offers a wide-range of visual communications and marketing solutions, including wall, window and vehicle graphics, banners, architectural signs, safety signs, tradeshow displays, digital signage, mobile marketing and more.
"Whatever our customers' needs may be, FASTSIGNS of Clarksville is more than ready to provide them with creative and effective visual solutions, and fast, responsive service," said Denny Fry, who is the center's marketing and media manager.
On opening day, Catherine Monson, CEO of FASTSIGNS International, Inc. visited the Clarksville center.
About FASTSIGNS®
FASTSIGNS® of Clarksville is a sign, graphics and visual communications company that provides comprehensive visual marketing solutions to customers of all sizes—across all industries—to help them meet their business objectives and increase their business visibility.
To learn more, visit www.fastsigns.com/2003 or call 931.919.2200.